If you're an avid reader, you'll know that the pairing of those two iconic little words – 'the' and 'end' – that come at the end (funnily enough) of a book are not always the last things you'll read. While they denote the end of the story, the remaining few pages of the book are dedicated to the author's acknowledgements – kind of like the credits rolling at the end of a film, but with more creative license.
In spite of the fact that writers are regarded as solitary creatures – stereotypes include being locked away in a dark room typing for days on end with cigarettes hanging from their lips and whiskey bottles on their desks à la Hemingway or Hunter S Thompson, or conversely, dreamily tapping away at a laptop like a Carrie Bradshaw late at night while gazing out an unaffordable NYC apartment window – it takes a village to produce a book. There may only be one writer attributed with coming up with a story, but most acknowledgements show just how many other people are involved.
The same too, goes for a literary festival – it makes sense that a bookish event for bookish people needs some acknowledgements too. As we sit back now and reflect on the second annual Pikes Literary Festival, we want to take the time to thank each and every person from around the world who was involved in making it happen – we couldn't have done it without you. And so, without any further ado or waffle, see our full acknowledgements below.
Pssst! If you're the type of person who skips over these lists in books, we'll understand if you don't keep reading. But we really hope you do!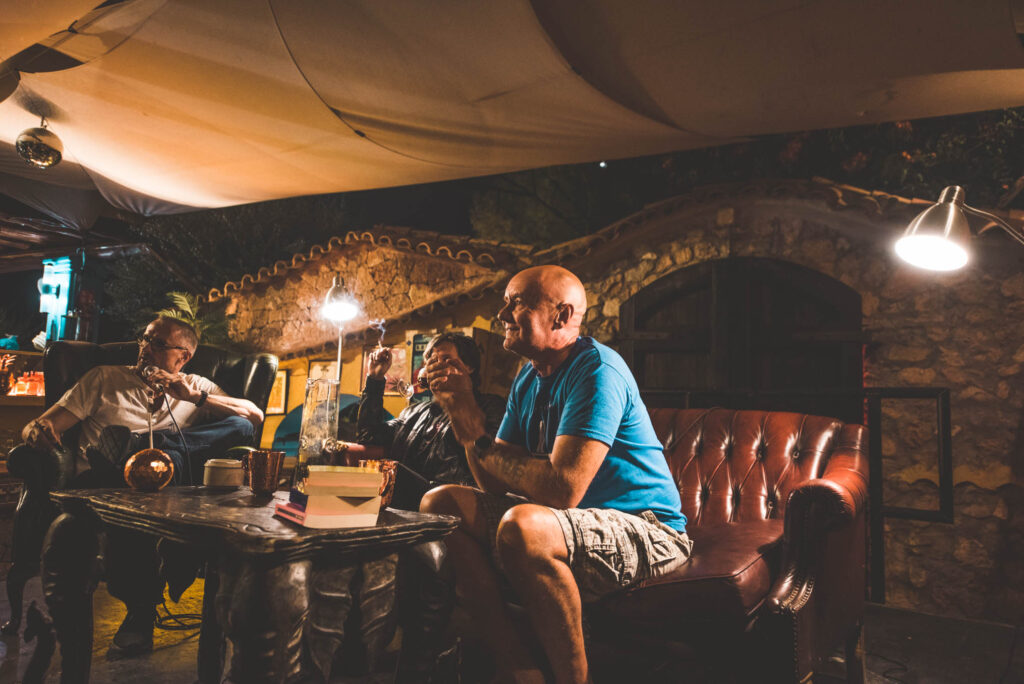 Thank you for the second year running to our dear friend, the extraordinarily talented writing teacher Linda Quinn, who returned to Pikes Literary Festival to challenge, encourage and inspire the island's aspiring and experienced authors alike in her 'How to be a writer' workshops.
We're grateful to Tony Pike's biographer, Matt Trollope, and author Jaqi Loye-Brown for sharing their advice and tips on how to get published with Ibiza's eager bookworms. An extra shout out to Matt for his special introduction to Mr Pikes – in a year that makes the book's subject very poignant.
We're eternally grateful to our panellists: The one and only Irvine Welsh (for the second consecutive year – can we call you our unofficial Lit fest mascot?), Carl Loben from DJ Magazine and again Linda Quinn and Matt Trollope, for a laid-back discussion that was both fascinating and hilarious, not to mention at times frought with fear as we worried the tarpaulin roof might blow off Plaza Mayor with all the crazy wind! We applaud you
A huge round of applause should be directed to Irvine yet again, for his fascinating interview with Carl Barat of The Libertines, as the two discussed the sometimes complex, sometimes easy, sometimes impossible process of writing song lyrics. After all, not all great writers are book authors, and here on this island where music is such an intrinsic part of our lives, we wanted to showcase this very special form of writing.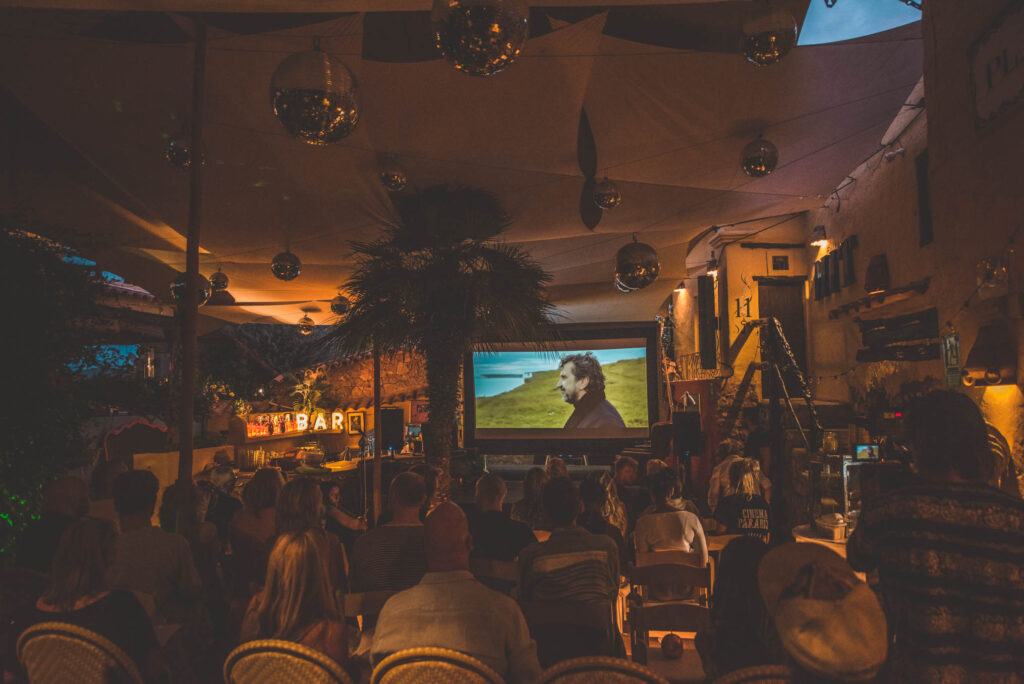 A huge amount of respect goes to documentary maker Debby Lee, who chatted to our friend and author Stephen Armstrong (and thank you to Stephen!) about her career before screening her work: The Who for Sky Arts. Stephen also interviewed TV chef Luke Thomas over dinner (more on that later), who gave us a sneak peek into his new cookbook – needless to say we were impressed!
Words almost can't describe how happy we were to have some of the original cast members of Quadrophenia with us, including the gorgeous Leslie Ash and Mark Wingett, for a discussion on the film before we screened it in Plaza Major. On that note, we want to give crazy love to the team from Cinema Paradiso, who were on all-weather stand-by as the torrential Ibiza rains threatened to put a dampener on things, but didn't!
To Virginia Feelgood, aka Sara from Ibiza Quills, we appreciate all the love and effort you put into your poetry reading. To Sa Cultural for setting up a mobile book stall on our tennis court – we're much obliged. To those who took part in Linda's workshops and had the courage to do a reading of your work – congratulations!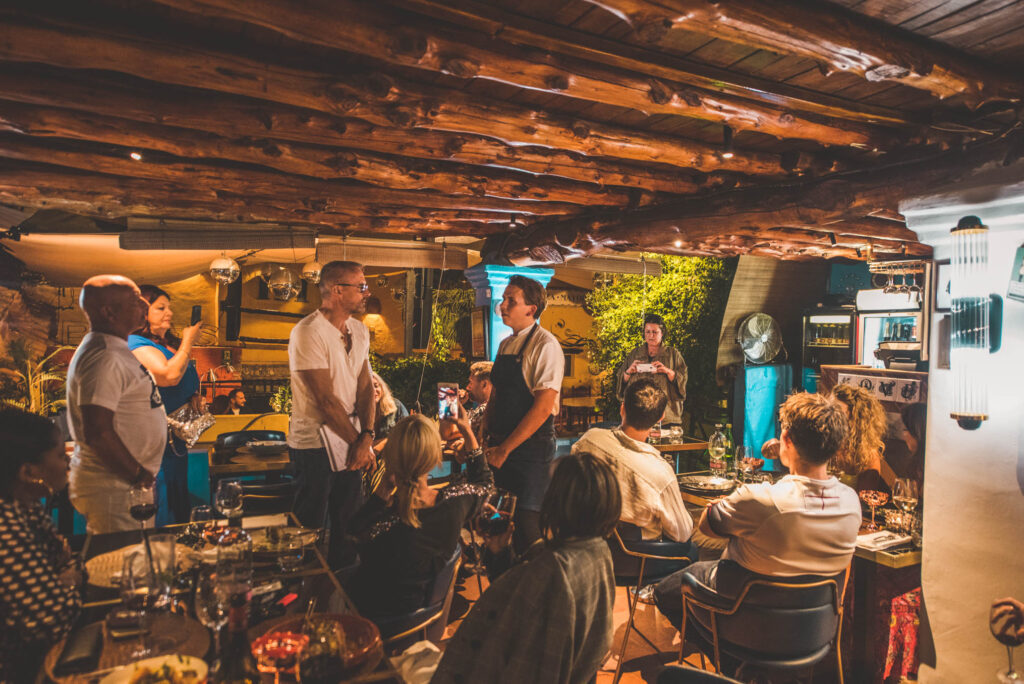 Another very special thank you must go to chef Luke Thomas, who hosted a Blacks Club pop-up dinner in Room 39 to ensure all of our guests, Lit Fest participants and panellists didn't go hungry! And to our friends at Absolut Elyx – we thank you for keeping us watered, although to be perfectly honest, not everyone felt grateful when the hangovers kicked in. Such is a writer's life!
We're indebted to Klaus Blatter, the pioneer of Acid House, for coming out of hiding to host an evening in Freddies that will be talked about for years to come. You can listen to his Acid House playlist on our Spotify channel.
Muchas gracias al increíble personas que hablan y escriben español en la isla: Cristina Amanda Tur, Ana Olivia Fiol, Fernando Monge, Ray Loriga, Alberto García-Alix, Víctor Guerrero, Manu Gon, Montse Grueso, Félix Fernández de Tejada, Bárbara Hermosilla, Felipe Bonet, Israel Hernando, Noel M. Cando, Maddalena Scarpellini, Nora Albert, Jordi Pereyra, Pilar Ruiz Costa yMaite Alvite.
Y tambien, without the support of the Consell Insular d'Eivissa, we wouldn't be able to host this event each year, so muchisímas gracias a ellos. Pardon our Spanglish, but that part was relevant in both languages!
And last, but never, ever least, Pikes Literary Festival would not have been possible without all the hard work from our team, from those on the ground (and in reception, the bars and restaurant) to everyone behind the scenes – STAY LIT!