We've never been ones to shy away from experimentation here at Pikes – whether creatively, musically, spiritually, physically or even emotionally! This summer, in the spirit of trying something new, we've invited trailblazing UK-based mental health collective Self Space to jet on over to Ibiza and host a series of one-off sessions and retreats in our beautiful Rockovery Dome – designed to disrupt the drama in our lives (and yours, of course!) for the greater good.
Each workshop and session is led by Self Space founders Jodie Cariss and Chance Marshall, a pioneering pair of highly trained therapists (and super lovely peeps, might we add!) who sidestep woo-woo nonsense in favour of practical tools that can be applied to everyday life. Proving that taking mental health seriously doesn't have to be boring, these events will encourage the reflection that leads to better connection with the self, with others, and with the world around us – we can't wait to take part and start the journey towards self-love and balance, not to mention watch it pay dividends on the dance floor later!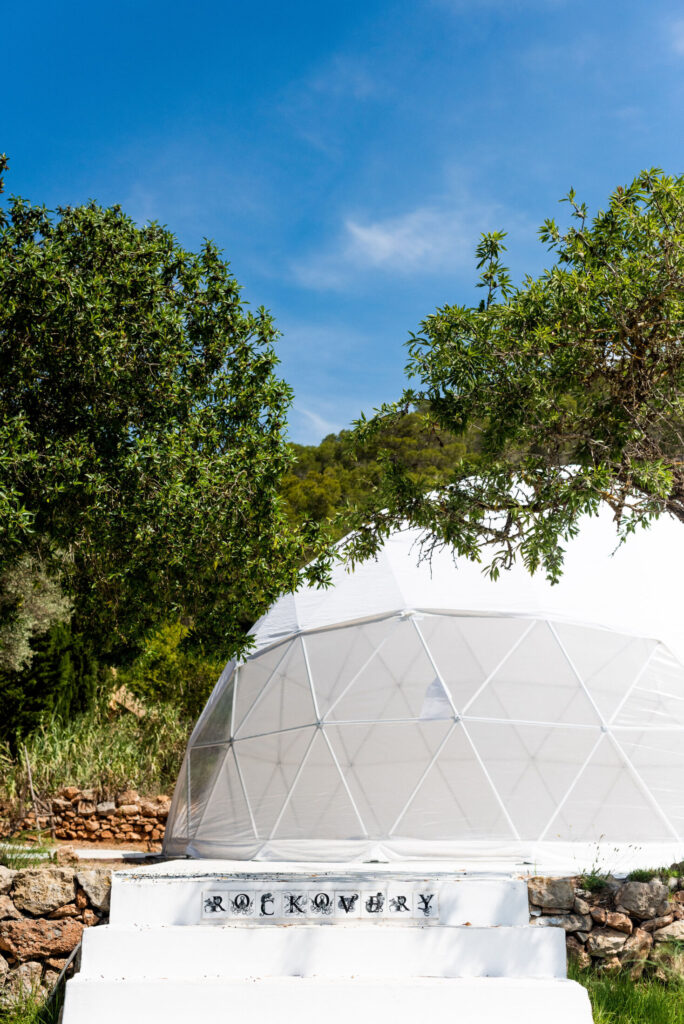 For the Pikes friends and family who may not know of Self Space (yet!), what can you tell us?
We're young but we're mighty! Basically, we started out four years ago, based on a growing demand and need for accessible, contemporary mental health support. It started off in a small workshop in Shoreditch with only a few therapists, but we've expanded to an incredible team of over 70 people — all tasked with supporting people in maintaining good mental health, getting to know themselves, finding balance, being mentally flexible, building healthy relationships, thriving at work and ultimately reaching their potential.
Sounds cool! Who's behind it all?
We are founded and run by therapists (that's us! Jodie and Chance), which means we're driven by people, not product. You can read about us in The Guardian, Vogue, Stylist, Dazed, Evening Standard, Cosmopolitan and more. We've presented at Stylist Live, have a guest spot on Laura Whitmore's BBC Radio show, have appeared on podcasts such as Reggie Yates and Protein and have hosted pop-up therapy spaces within Soho House and Soho Works. And in 2022, we wrote a book: How To Grow Through What You Go Through (Penguin Books). Our social media community is really engaged so if you want to find out more, look for us there!
Before we meet in person on the island, we want to get to know you better! Tell us about yourself Jodie…
I started out as a children's television presenter, and then some years later decided to train as a therapist. I teamed my therapeutic work for The Learning Trust Specialist Intervention Team with a private therapeutic practice and corporate consultancy, and worked with leading global creative and media agencies to develop models that promote social and cultural change. I believe my role is to support and illuminate everyone's journey towards reaching full potential – in both a personal and collective context.
And what about you, Chance?
I'm a therapist, manager, facilitator and writer. I'm passionate about creating the right vocabulary and spaces for mental health support that is accessible and de-stigmatising. As well as holding a client caseload, I also lead on digital content, design brand partnerships, and head up Self Space's psychoeducation programme which delivers mental health and wellbeing talks, training and workshops to organisations. I'm also interested in organisational psychology and unconscious dynamics at work, and that's led me to collaborations with senior leaders and employees at Google, CALM (Campaign Against Living Miserably), Spotify, Stella McCartney, Depop and others.
Wow – we are suitably impressed! What inspired you to bring the Self Space concept to the island?
Ibiza has a unique energy. It's a hub for hedonism, creativity and talent but it's also fast becoming one of the world's go-to places for wellness. You can engage in anything from crystal healing to mud story walks but when it comes to direct, unsolicited mental health support there is very little on offer here, which is why we decided to bring Self Space to the island! We are a great fit for the Ibiza audience as a brand — we speak the same language.
What do you hope to achieve with the Self Space events at Pikes?
By bringing contemporary mental health support and education here, we really feel like we can create something powerful. We lean into edgy relationships, and in Ibiza, people are a mixture of brilliant, lost, messy, learning, stuck and growing. Alongside them, we feel like we can transform the culture around mental health. It feels like a a really good fit for us to be present in Ibiza, putting a bit of a spin on what it means to lose your head!
What drew you to Pikes in the first place?
In our minds, Pikes is the coolest place on the island. Steeped in nostalgia, stories and energy, it's been home to some of the best legends around, and messy humans is what we specialise in! We feel deeply at home within the walls here and love both the people behind Pikes and the people drawn to it, so it feels like a natural fit for us.
What would you say to someone who felt a bit of trepidation about attending one of the Self Space experiences at Pikes?
Nerves around anything that might move us towards change, growth and expansion is totally normal. We call it the knife edge. But we encourage you to feel it and move towards these experiences, rather than away from them. We're all in this together because sharing and working with others provides the most opportunities for learning and potential for lasting change.
Got it. What are you most looking forward to about the sessions and retreats at Pikes?
Getting going with this ground-breaking partnership! The first of its kind with a venue like Pikes. We can't wait to give people who come to a session or a retreat an opportunity to soak up the Pikes energy and the Self Space tools — a heady combo!
And finally, what are you most looking forward to about being at Pikes and your time in Ibiza in general?
London can be exhausting so it'll be great to have some time to chill out in a beautiful place like this. As founders, we're constantly juggling and holding down a lot of priorities and it can be bloody hard at times. So, we're seeing this as an opportunity to really be with people in a slower, more intimate, relaxed environment. We want to open the doors and create space to just be. And while we work together, we rarely get to spend quality time side by side, so we'll be going straight in for a frozen marg and a boogie!
Fab. We'll see you on the dancefloor AND in the Rockovery Dome then!