Pikes has been an A-list haunt since Tony Pikes first discovered the old wood-fire bread oven in the original kitchen during his initial renovations when he bought the finca. He would cook lavish roast lamb dinners that became the talk of the island's hoi-polloi, many of whom began joining Tony for dinner. Eventually these dinners became so popular he had to start insisting on a cover charge. While the lamb itself was said to have been delectable, it's highly likely to have been the affable owner's hosting skills were what kept people coming back – though Tony will always insist it was his cooking!
Fast forward to the mid-80s and the hotel had indeed earned a name for itself. Whether you knew it as a place to party, a place to retreat from the prying public eye or a place of ill repute – if you were famous in the 80s and visiting Ibiza, chances are you experienced Pikes. These days of course, Pikes is a much more under the radar hangout for bands, models, artists, designers or celebrities of any kind – we're all equals here now. But to this day, we still enjoy hearing Tony spin the tales of his famous friends, especially those who helped put Pikes on the world map.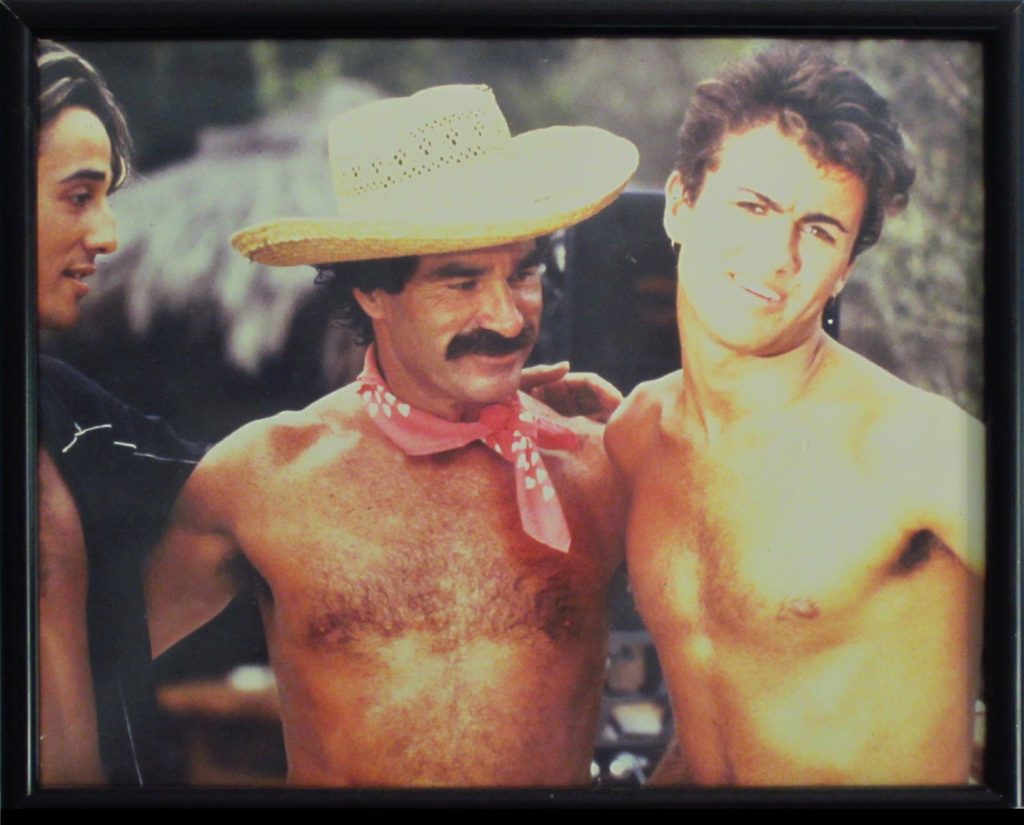 GEORGE MICHAEL
It would be fair to say that the Club Tropicana film clip in 1983 was the moment in pop culture history that launched Pikes into the international stratosphere. At the time, there were only eight rooms in the hotel and Tony saw the 10-day shoot as a potential inconvenience, with crew, band and extras all over the hotel while he was trying to run the day to day operations – but he needed the money so couldn't say no. Fast forward to today and of course, Tony sees the merits of offering his hotel as a location for what would become a truly iconic video, now calling it "the gift that keeps on giving".
Tony remembers George Michael and Andrew Ridgely arriving – bonding immediately with the former over a few drinks the night before the shoot commenced. He recalls commenting on his good looks, and asking how many women he was pulling at the time when George laughed and revealed the truth about his sexuality (which at the time remained secret). One thing led to another and… well, you'll have to order a copy of Tony's book Mr Pikes to find out just what happened next. The two stayed close for many years, catching up often in London and Australia in addition to Ibiza.
Six years after the first visit, George took up residence at Pikes for an extended period while touring Europe, using it as a home base for him, his family and close friends. He's always been described as a warm and wonderful guest, not to mention a consummate professional. 35 years after that fateful late night drive up the dusty camino to Pikes, his fans still flock to Pikes play homage to the late singer.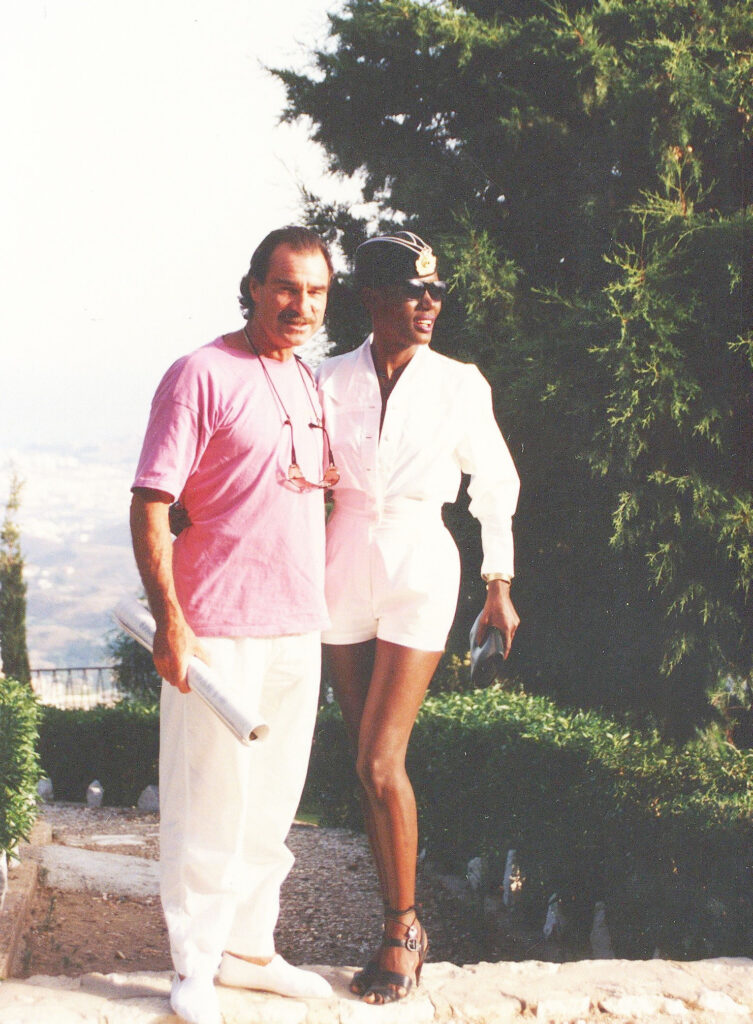 GRACE JONES
Those who remember Grace Jones' tenure at Pikes all remember one thing – she spent a lot of time at the hotel however she didn't seem to ever actually sleep. Whether it was all the reported sex she was having, the alleged drug use or just an insatiable lust for life, it is certain that the larger than life, illustrious performer enjoyed her time at Pikes to the fullest.
It was actually Grace who hunted Tony down, according to his memoir Mr Pikes. The two met in New York (at a 'love-in' celebrating her birthday) and a year later she arrived in Ibiza, stepping out of her car in a matador hat and cape. The scene was set for drama from day one. Tony and Grace had a torrid affair for almost 15 months (the two tell differing versions of the story – read both accounts in Tony's book and make up your own mind) and she visited the hotel many, many times during that period. Each and every time she arrived, it would make the front page of the local newspaper, Diario de Ibiza.
One of the most famous Grace tales is of the time Tony and his famous lover were strolling through the grounds of Pikes, only to spot items of clothing strewn from the trees and floating in the pool. They were items of Grace's clothing, after Tony's girlfriend at the time had finally reached her limit of tolerance. One side of the story goes that Vera chased Grace around with a carving knife – another is that Grace vehemently declared to kill Vera, only to be persuaded back into the bedroom by Tony. A very brave man indeed…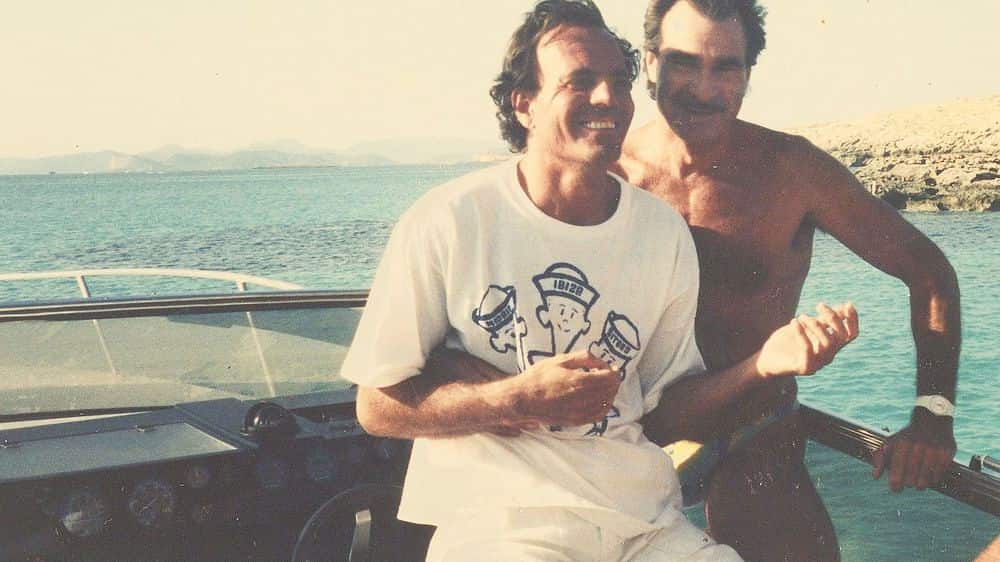 JULIO IGLESIAS
There's another of Tony's tales that often appears in newspaper articles; of the time he was dragged away from a tête-à-tête with Koo Stark – who at the time had fled the UK after controversy surrounding some video footage of her put her on the bad side of the royals (she was dating Prince Andrew) – by two enormous looking men in suits waving giant wads of cash and demanding eight rooms for their 'famous boss'. Initially, Tony thought they were mafia – in the end, their boss turned out to be even bigger: none other than Julio Iglesias, a man Tony describes as being god-like in Spain.
Julio fell in love with Pikes – here, he found a place he could escape the prying eyes of the press and it was rumoured that there were always many beautiful (mostly blonde) women hanging around the Pikes pool at his request when he was in residence. He also found a friend in Tony and the two forged a strong bond – as pictured above.
The Bungalow Suite was eventually called Julio's due to the extended periods of time he would spend there – the legendary singer even once did a photoshoot for Spanish tabloid magazine Hola! (the equivalent of OK!) at Pikes. His loyalty and love for the hotel didn't stop him acting like a diva however – he'd make outlandish demands, such as calling to say he needed three rooms for three weeks the night before flying in on his private jet at the height of summer when the hotel was fully booked. Tony, with his wiley ways, always managed to make it work!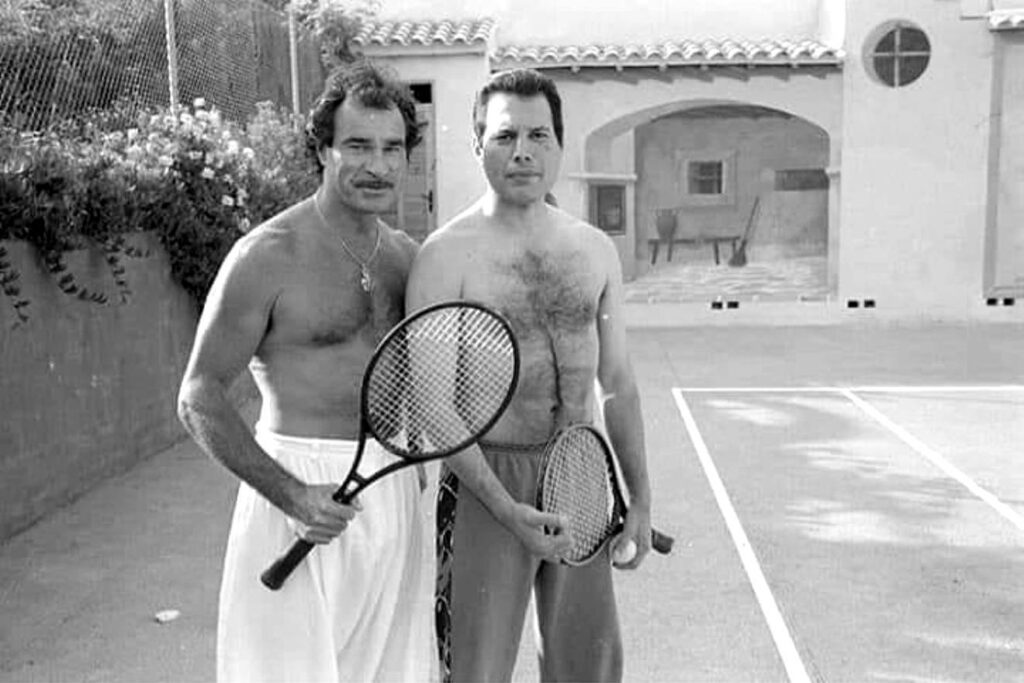 FREDDIE MERCURY
It was 1986 when Freddie Mercury first stepped over the Pikes threshold, only to be greeted by a bedraggled hotelier who was knee-deep in concrete and dirt, mid-way through his pre-season renovations. Tony insists he had never heard of Freddie Mercury and begrudgingly gave the singer – who was seeking a place to retreat and record music – a tour of the hotel. It makes sense. There was no internet at the time; Pikes was a little hotel on an obscure island in the Med – the newspapers on the island were all in Spanish.
The two became firm friends and Freddie spent quite a lot of time at Pikes in the years before his passing – once even taking up residency for two full months. (You can read much more about the details of their friendship in Tony's book, Mr Pikes.) Tony is often known to tell the tale of Freddie asking why the Bungalow Suite was referred to as 'Julio's' by the staff with just a hint of jealousy. "If you keep singing Freddie – I'm not making any promises – I'll put your name on something," he famously quipped.
Today our beloved party pad – formerly called the Marrakech Suite, where Freddie would bunk in for weeks at a time – is indeed named in homage to our most iconic former guest. Freddie declared Pikes his home away from home; he was one of the only famous guests to regularly use the tennis court although Tony says he wasn't a particularly good player. Perhaps he liked the way he looked in tennis whites! A little-known fact is that the first time Freddie ever performed Barcelona was right here on the ground floor of the finca as he warmed up for his duet later that evening with the late great opera singer Montserrat Caballe, giving guests goosebumps as his one-of-a-kind voice echoed throughout the hotel.
And then of course, there's that famous party. Saturday, September 5, 1987 – Freddie Mercury's 41st birthday. But that's a tale for another blog…