Based in her studio in London, Donna Ganley creates rock 'n' roll art, curates vintage clothes, designs her own T-shirts and also produces bespoke, beautifully hand-painted designs on to leather jackets. You may have seen a couple of people wearing them around the hotel already. Her jackets bring a rock 'n' roll twist to any outfit they're worn with, whether you're hanging out in your Speedos by the pool or you're a bride needing a little something extra for your wedding day.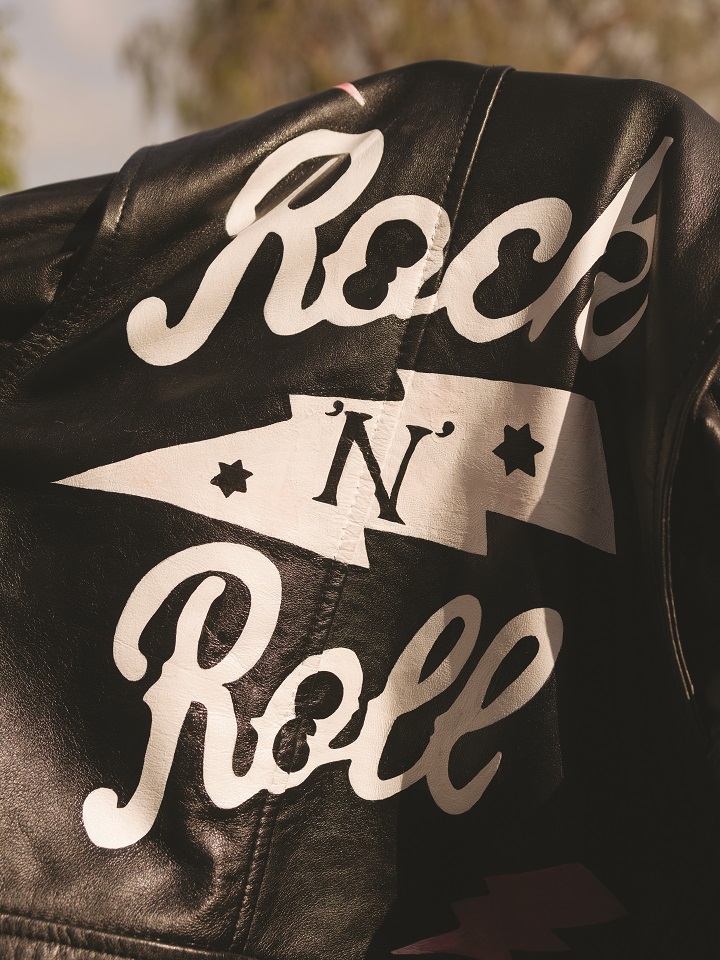 How rock 'n' roll are you, Donna?
Ha ha… good question! I can say that over the years I've had my moments but I think now I mainly channel my rock 'n' roll into my art and fashion. A lot of the image of the brand is quite tongue-in-cheek but does stem from a genuine love of music and the whole vibe that goes with it, so I enjoy everything that my work brings in that way. I'm making myself sound boring aren't I… so scratch that, I think I'm still more than capable of being led astray, in the right company. Trips to Ibiza can have a lot to answer for too…
What's your background? Have you always been in fashion?
I studied Fine Art at college and have a degree in media, so art and the arts have always been my love, but painting and drawing have been my passion ever since I was a child. And that's something that has never gone away. I did have my own independent fashion store, which focused on selling other brands and designers for a while, which I loved (because fashion is a big part of my life) but I think deep down, I've always wanted a brand of my own and my desire to paint and draw has always been there, so I've combined the two.
Where did you learn to letter like you do – have you thought about getting into sign writing?
The lettering which features on a lot of my jackets just seemed to happen organically as I painted more and more for different clients to suit their needs. I started off with the slogans for brides, 'Just Married', 'Mrs So and So' and it sort of rolled on from there, I just taught myself! The bridal jackets are so popular and I adore seeing their wedding pics months down the line. I especially like to see how they've styled their Starlover piece with their dress; it always makes me smile. But because the ethos behind the brand is 'wearable art' inspired mainly by music, then of course I had to bring some of that into the mix, like song lyrics, titles, and a general 'rock 'n' roll' apparel feel – all of my loves combined. I'm inspired on a daily basis with the lettering. Sign writing is definitely not out of the question!
What's the process of putting together a commission?
The first stage is usually an email with the idea of having something bespoke made but they often need direction in terms of the design etc. We sell our own new leather jackets but we can also source vintage ones for the client if that's more their style, so we have to establish which they'd like. There are occasions where we can take a jacket they already have and love and breathe new life into it for them with a hand-painted design. The bridal jackets I do are maybe the easiest ones to come up with in terms of design and lettering as they are so specific and for a particular occasion. I think the designs which maybe take more thought are when they are for everyday wear. They need to almost be a reflection of the wearer and what they are all about and tell a little story. That's the most interesting part about having something created especially for you I think, an item as basic and every day as a leather jacket becomes something you can keep for ever and isn't as disposable as the other things in your wardrobe anymore.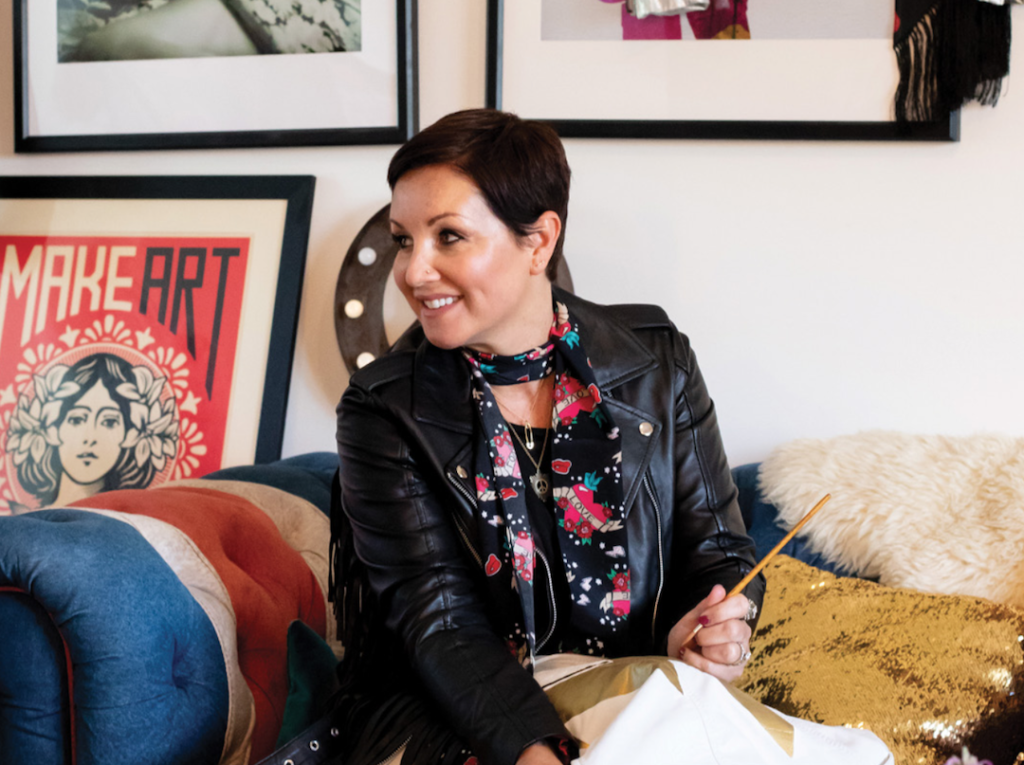 What kind of music do you listen to when you're doing it?
The music I listen to varies to be honest. Some days I can be in a Led Zeppelin mood, who are always a fave but I have such diverse tastes it could end up anywhere, reggae, northern soul or just listening to the radio to discover some new stuff. I do enjoy listening to old interviews that musicians have had
in the past too. I like to know how they tick. Silence is also an option at times, believe it or not, but more often I am definitely found cranking some tunes out from the studio when I'm lost in my paint!
Is your studio like a rock bar?
I do have a little vintage bar in my studio, she's well stocked but I think if I throw that in the mix with the music and the paint while I work, we'd all be in trouble! I have been known to have my best ideas sitting around it though, after the paint has been put away.
How do you stop the paint cracking and falling off?
All leather jackets are different as in they all have a texture of their own, especially the vintage ones. I obviously know the ones we sell are a good texture to paint on but I only use specialist leather paint so I've had no problems really. I make sure the leather is cleaned down with a specialist cleaner so I've got a good base, it takes any oils away so the paint lies really well. Each design takes a few layers of paint, especially the lettering, to build up a solid colour so a good base is essential. The brand I use also does an amazing sealant in a few different finishes. This makes sure the paint is crease proof, crack and water proof. I've shipped pieces as far as Australia and New Zealand so it's been well put to the test.
Where do you source your leather jackets?
I have a great supplier in London at the moment that I use for all of my new leathers. I have sourced them from overseas and still do for certain things or to test ideas but mainly my supplier in London comes up trumps with the right styles and colours. I also still go to vintage fairs, wholesalers and scour eBay for little gems. I've always got my eyes peeled for the perfect leather and I genuinely love to have a good scout about. I never switch off that radar.
Have you ever had to stop someone and try and buy it off them?
Funnily enough, I was at a market not long ago and my son was rummaging through the records when I clocked a woman in an AMAZING vintage biker, the perfect canvas. My son then distracted me asking if he should buy a Clash LP and I lost her in the crowd! Not asking her to buy that jacket will haunt me.
Are there any commissions you'd turn down?
I have had an enquiry recently to paint an old ship with an anchor on the back of a leather jacket with 'keep your ship together' written on it. Very random! Let's just say I haven't got round to that one yet. Hope she's not reading this!!
Who'd be your dream commission?
David Bowie. It doesn't need much explaining I guess, he was just a legend and which brand wouldn't have wanted him to rock their designs? He loved art too, so the ultimate commission I think. Zoe Kravitz, Chloe Sevigny, Debbie Harry, Caroline de Maigret would be cool – I love their styles.
You do a lot of brides – where did that trend come about?
A bridal jacket was my first commission so I think it's just snowballed from there and it's now quite a 'thing' I suppose. Brides love the jackets as they add another dimension to their outfit and allows them to give their look on the day an individual twist. It's also great for their wedding album too – it makes a change from the usual line up of men in suits and women in big hats! And wedding dresses aren't the warmest, and weather is unpredictable, so that's where I step in!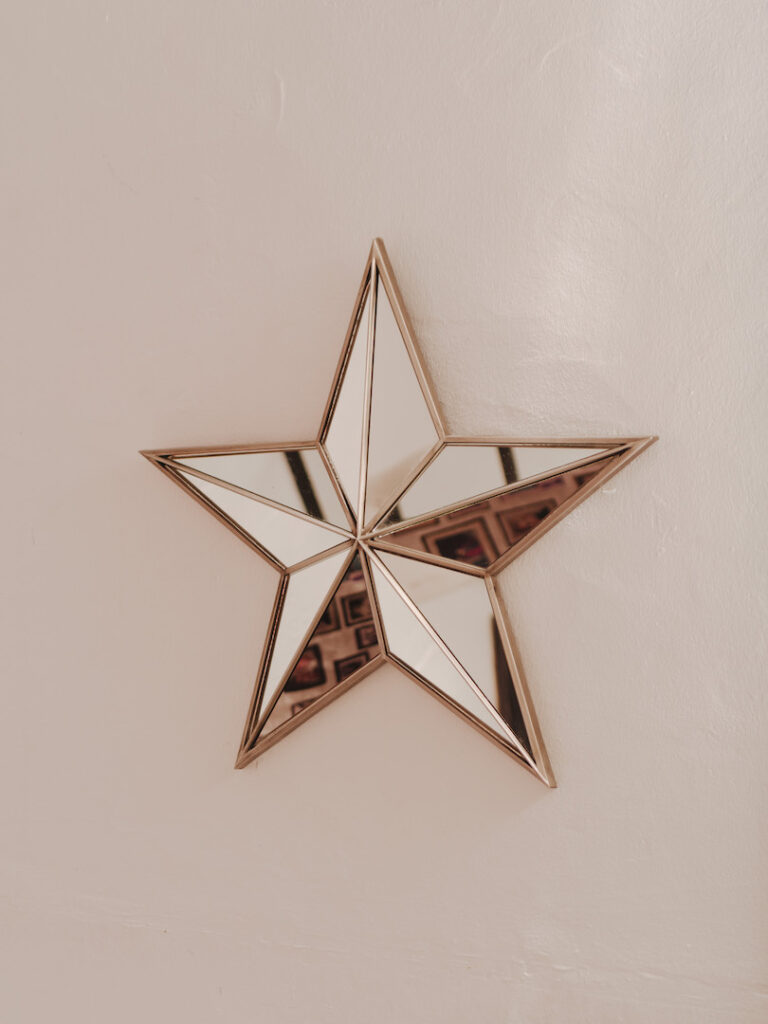 Why are you called Starlover?
Predictable as it may sound, I have a genuine love of stars! And also of course, which is the real reason, I am a huge Bowie fan. With him being the Starman, I had to incorporate that somewhere in the name of the brand!
Do you have your own jacket?
I do, yes, it says, 'Let's get into trouble' – I think you can make up your own mind on that one!
Head to www.starlover.co.uk to find out more about the brand, and shop their collections.