Based in Barcelona, and involved in the expat, English-speaking comedy scene – was via email in 2020, post-lockdown. Right when we all needed a good laugh. Back then, he was planning a writers' trip to Ibiza with some fellow comedians. "I thought, let's see if we can do a little show somewhere on the back of our holiday," he says. "The email was a bit of a Hail Mary if I'm honest! They were looking for things to do that were COVID-safe, outdoors, a little bit different, and we were looking for somewhere to perform – we ended up pulling a show together in about two weeks or so." And that show was so good, we've we've been inviting them back monthly ever since!
James has been visiting Ibiza since he was 15 years old, and it was in 2009, when he spent a season out here to DJ, that he had his first taste of Pikes. "I was always very aware of what Pikes was," he says. "I hadn't been there in my earlier years, but I read all the old Ibiza magazines, and knew that everyone was going to Pikes. Then when I went, I just loved it. I always wanted to perform there – I guess now it's just in a very different way to what I originally imagined."
Hosted on our hot pink tennis court on select Friday nights throughout the season, Lust For Laughs events take place in the balmy Balearic air, from the very civilised hour of 8.30pm. These stand-up comedy nights have been garnering quite the local following since they began last year, and James tells us he dreads each month's performance (and yes, he's joking, just in case the dry wit doesn't translate to the written word!) as the prior month's shows always receive such rave reviews. "So many of our regulars said the last one was the best one yet," he tells us. "How can we top that?"
So how did this former DJ end up in the comedy world, you may be wondering? We were, so we asked him! "I've always loved comedy," James admits. "I watched a lot of stuff I probably shouldn't have as a kid with my dad, I listen to it in the car, I loved it before I even decided it could be a good creative outlet for me. I never thought about trying it myself until around 2017. At the time, I was listening to a lot of podcasts with comedians talking about what it's like to be one and then I thought: I'd quite like to brave it and give it a try." Brave, indeed. "It took me about two years until I was brave enough to go and do an open mike," James continues. "Obviously I was terrible, but not quite terrible enough! I really enjoyed it and then didn't look back. I started performing in Barcelona, started getting booked for gigs there, and what I've found is that I've absolutely fallen in love with producing comedy shows."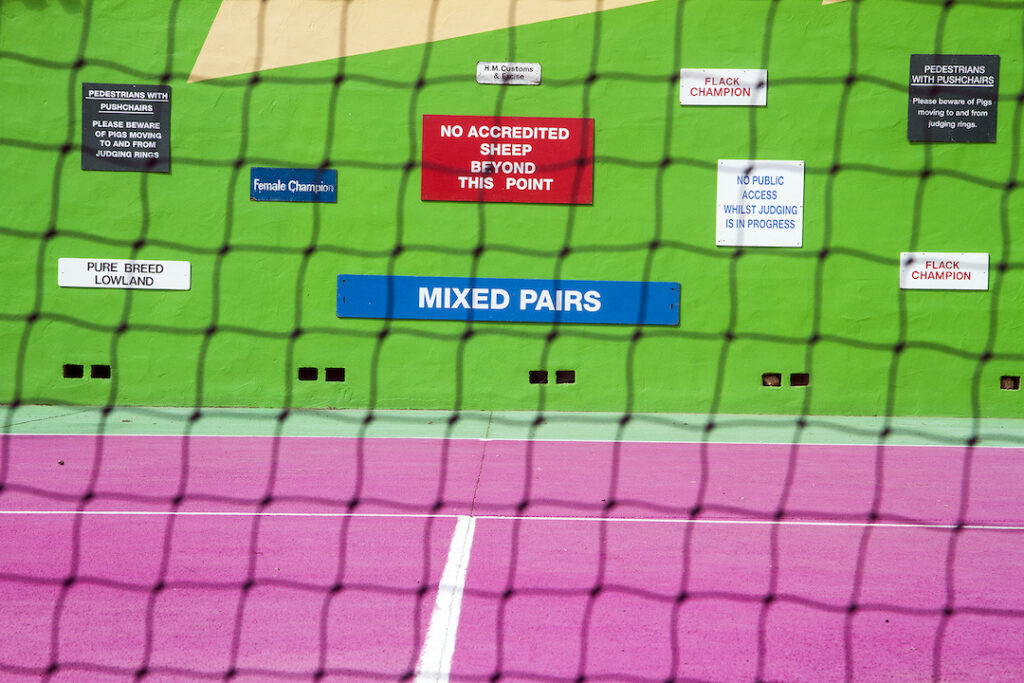 James also works in PR and communications, and boasts a lot of events experience, so it makes sense that he'd gravitate towards this side of the field when he's not performing. "It was like two of my passions came together," he says. "I just wish I'd thought about it years ago!" Better late than never, we say, and better on our tennis court than someone else's. "The long game is to do it full time. It's just really fun and I love being around comedians. It's been really great from a performing side, and I've also been able to meet some of my favourite comedians."
When it comes to booking acts for Lust For Laughs, we couldn't help but wonder: aside from performing in English, what is it that James looks for in a comedian? "Obviously it's people I find funny, but at the same time – and after quite a few of these events at Pikes – I understand what the audience wants and likes too," he says of the process. "A lot of the regulars in the audience are British and a little bit older, and they like that deadpan humour. I try to book at least one very seasoned pro – it might be a household name, or someone who is really big on the European circuit – and I think it's also important to provide a platform for the newer performers you might not have heard of to come and do a show like this. They're not always British – quite often we bring someone over from Barcelona, or they could be from Argentina or Spain. The humour definitely still translates."
Dry, deadpan, sardonic and a little bit risqué, you can expect plenty of alfresco mirth and mischief over the course of the two-hour shows to get you giggling, and (hush hush) you just never know who else might pop in for an unnanounced set if they're on the island. "Once in a while we get someone quite famous who happens to be around in Ibiza to do a drop-in set, unannounced. You never know who might show up – what's on the line-up you see on the poster may not be the full story." Hilarious (obvs), a bit naughty and quintessentially Pikes, there's nothing else like it in Ibiza. "It's a really fun night out," says James. "Without the temptation of staying out until 5am." Oh, who are you kidding James, when Freddie is right next door for some post-show dancing?