Tucked away in the little corridor that links our restaurant, Pamelas to the Sunset Terrace is a space so teensy tiny you could blink and miss it, especially since the iconic neon 'Why the fuck can't I have fun all the time?' sign generally steals the spotlight in that corner of the hotel. But, if you avert your gaze from Kate Moss's legendary quote for just a moment and glance across the hall, you'll spy some sci-fi looking machines whizzing, whirring and spinning behind the frosty glass window – this, dear friends, is The Patrón Lab.
Our brand- new, pint-sized flavour emporium where our master mixologists push the boundaries when it comes to experimenting with flavours, ingredients, infusions and more to create one-of-a kind cocktails and spirit blends inspired by the essence of Pikes.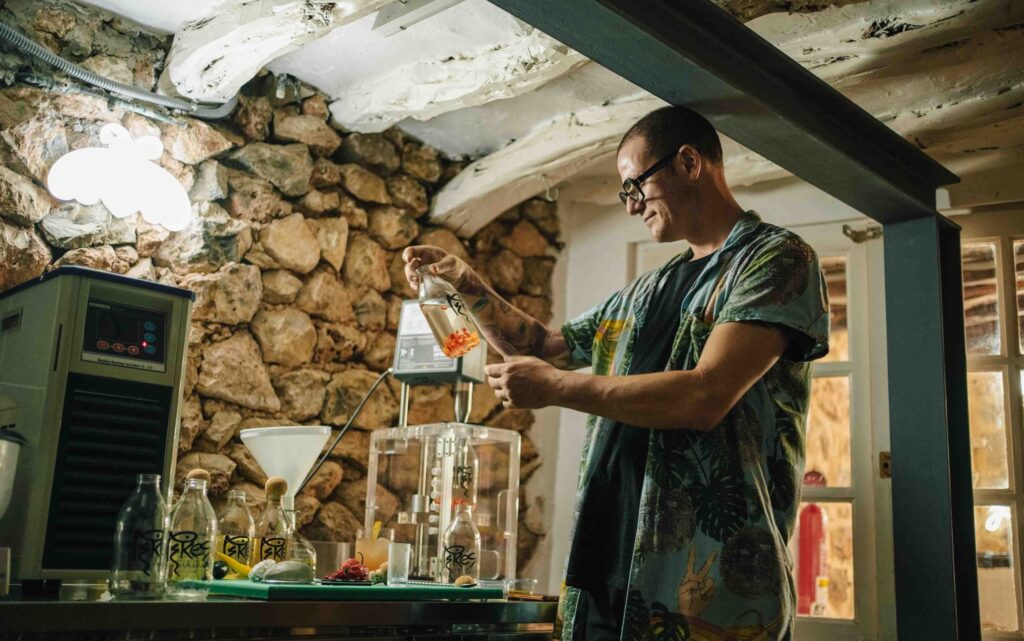 The once-disused space was originally intended to be a private room for our team of talented mixologists to get together and experiment with flavour combinations, recipes and island-inspired ingredients – a test kitchen, if you will. But, as the season went on, our head mixologist Alberto Pizarro began to notice the petite space turning heads as he went about his evenings conducting experiments, and the seed for The Patrón Lab was sown. Rather than keep Alberto's alchemic genius concealed, we decided to open up the cutting-edge lab (by invitation or on request) so our most curious guests could really appreciate just how much love, passion, energy and even excitement goes into creating the drinks you see on our cocktail menu. It seems good things do come in small packages after all!
The rustic stone walls and whitewashed Sabina ceiling beams are a contrast to the fancy-looking Rotational Evaporator, used to redistill spirits, and the Ultrasonic Homogeniser, which we use to infuse spirits at a super-high speed (so powerful it can actually mix oil and water), plus the vacuum-like Sous Vide, used to distill delicate ingredients at a super-low temperature. Alberto jokes that some customers have made the inevitable comparisons to Walter Whitman when they first step foot in the lab, but in all seriousness, he professes to a singular passion for cooking up unique, taste-sensational ingredients, tinctures, infusions, syrups, dehydrated ingredients and more. Nothing illegal going on here, folks!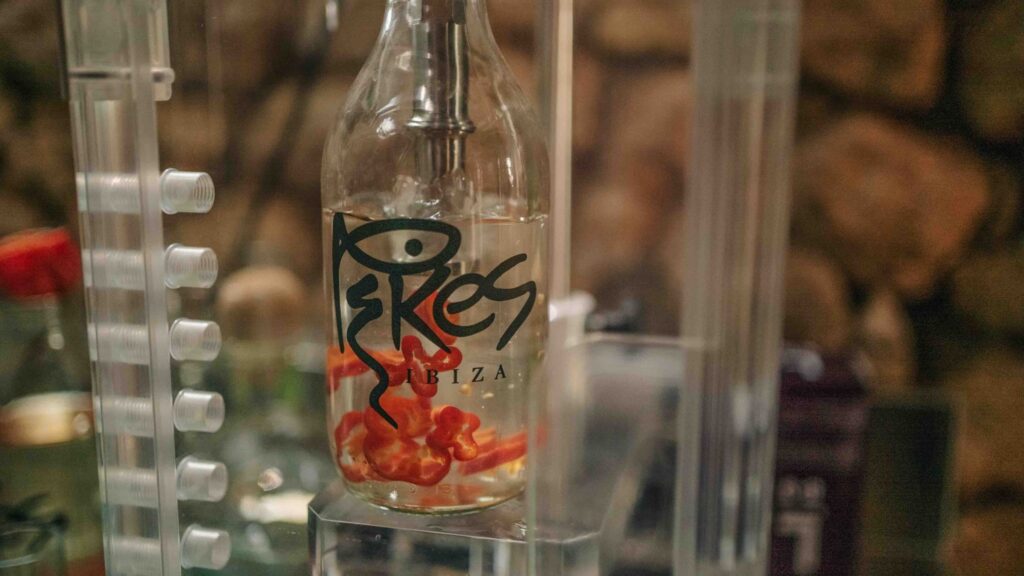 "The Patrón Lab is like a little interlude, or a detour, on your night at Pikes," Alberto explains. "It's not a boring science lesson! We'll invite you into the lab for after-dinner shots, for example, so you can see exactly how we make them. Working with the ultrasonic device, we can infuse Patrón tequila with your choice of chili in just 29 seconds – normally it would take one month if we did it manually – and you can be back on the dance floor three minutes later." If a shot doesn't take your fancy, join us at one of our Patrón Paloma Parties on Saturday nights, where you can opt to be a guinea pig and sample the five levels of chili-infused Spicy Paloma cocktails.
"You've got to be pretty brave to try the hottest one," Alberto admits – and he would know, having personally tried each and every blend throughout the development process. "My advice would be start in the middle. Once it took me a couple of hours to get my taste back after trying something too spicy. Finding the right balance with tequila and spice is an art form." And one he has learned to master, of course… This season's experience in The Patrón Lab is a little teaser of what's to come – Alberto (a multi-award-winning bartender in his own right) has a list of recipes, cocktails and ingredients in development for next year. Think homemade coffee liqueur, for an espresso martini with a caffeine kick like no other; our twist on limoncello that moves away from the Italian-style syrupy drink and uses enzymes and spices to bring out the flavours of local Ibiza lemons; and our very own Pikes gin – distilled with juniper berries foraged the grounds of Pikes along with other unique flavours found right here in the hills of San Antonio – plus all kinds of Patrón infusions for tequila lovers.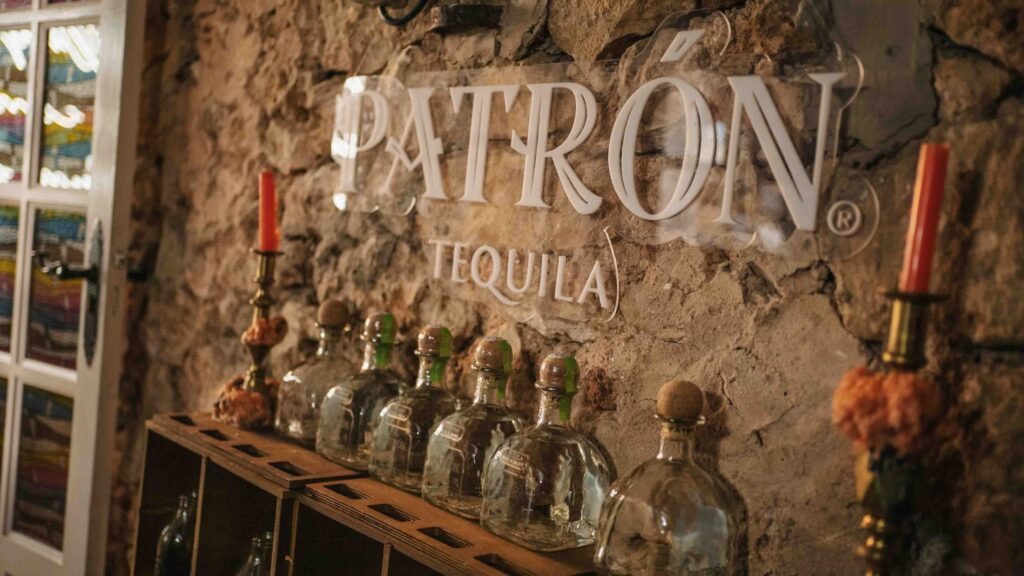 Of course, it wouldn't be right if we didn't create our very own blend of hierbas Ibicencas, and Alberto is busy trialling, testing (and yes, also tasting) some unique concoctions that elevate the typical sugary beverage to new heights. We'll be planting even more fruits and herbs in the garden (think lemongrass, hibiscus, cactus flowers, rosemary, basil and more) with the idea that we can pick them in the afternoons, bring them to the lab and then in seconds, whip them into a blend that gives your favourite drinks a KM0, Pikes-infused flavour kick in seconds. "Eventually, we'd like to bottle our most successful blends and sell them, so you can take them home to enjoy after your holiday," says Alberto.
For now, however, it's all about storytelling – come into our parlour and let Alberto wow you with his expert knowledge of the impressive machines, of the distillation and infusing processes, of flavour combinations, and talk you through his experiments in pursuit of exceptional tastes. "Nobody has ever done this in Ibiza before," Alberto concludes, excited at the prospects of things to come. "We have to keep experimenting with the seasonal ingredients, not just the next three months we're open. I'll keep researching all year round – it's what I love to do. We want The Patrón Lab to become a part of the story of Pikes. As well as cutting-edge techniques and methods, it's also about sustainability, and our commitment to working with as many local products as much as possible, and of course, to creating the most unique drinks on the island."