"Tony Pike completely won at life," states Artwork, as he contemplates life at Pikes in 2019, without the main man's enduring presence by the pool bar. "That geezer had the maddest life ever. To build that place up, and to have a caveat when you sell it that says you get a free room, meals and bar for the rest of your life so you can just mooch around telling your stories – now that is fucking retirement. I hope I end up somewhere being retired like that!" Of course, our Arthur's a long way from retiring just yet – well, we hope so, unless there's something you're not telling us Art?
Right now, Arthur's midway through his sixth season at Pikes and it's fair to say, these days, he's almost as much a part of the furniture round here as Tony was. Just like our dearly departed founder, he's done his fair share of mooching about the hotel telling stories of his wild nights – many of them not fit for publication just like Tony's. "I could tell you a thousands stories," he confides. "Things happen here and nobody gets their phone out, they just let them happen. I've had countless – and the word countless really comes in here – things happen at Pikes that are just completely and utterly ridiculous, but you can't write about them. You just have to come to Pikes."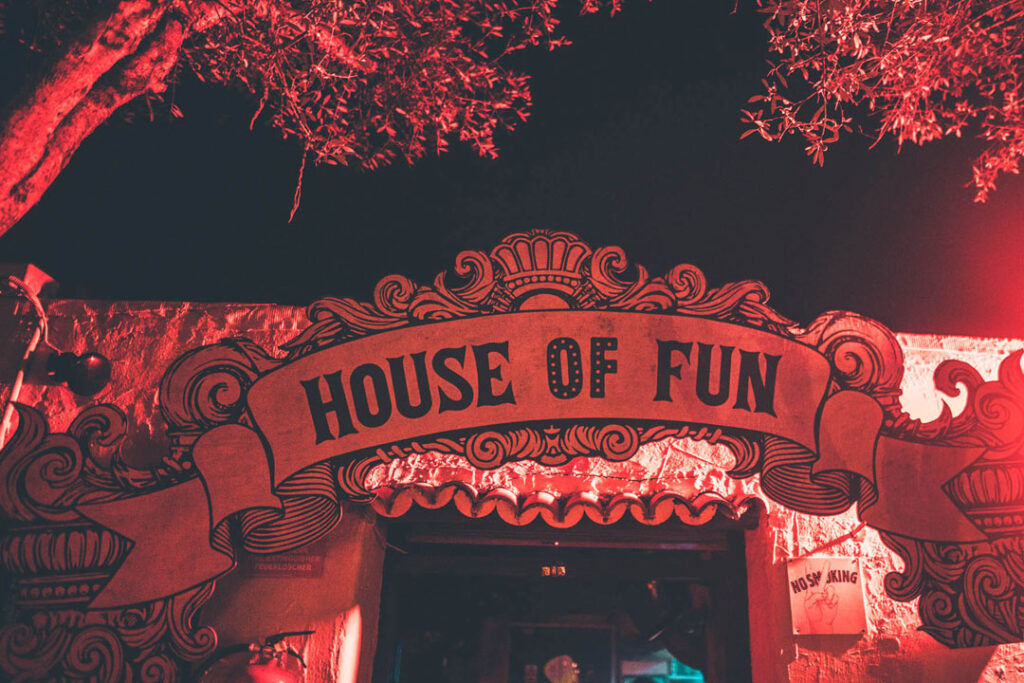 There's no doubt about it: Pikes is Artwork's second home. While life, music, touring and hosting his own festivals frequently takes him away from the island, Arthur knows he's always welcomed back into the Pikes fold like one of the family. "You can be busy doing other stuff in the months that it's closed, but when you go back to Pikes, it always feels like you were there just two or three days ago," he explains. "Everything is EXACTLY the same, from the minute you walk in and Emil says 'Heeey! How are you man?' Years fly by, you could have a year off, and it still seems like you were there the whole time." He pauses to consider what life would be like if he didn't ever leave the hotel. "Nooooo! I couldn't live there," he laughs with that signature mischievous glint in his eyes. "I'd be dead after six months!"
"It's full-on," he explains. "The party doesn't stop, you know? It's either round the pool by day and then into Freddies at night time, and then you try to head back to your room but you pass five other rooms where people will say, 'Oh come and have a drink' and then it's the next morning and the party by the pool starts again. It's 24/7 mad." He cites his favourite room as 26, which was once Tony's preferred suite for dalliances with women who were not his wives, though for Arthur, it's all about the location. "It's far enough away from the party so you don't hear any noise, but it's so great inside with an amazing bathroom, these massive old sculptures and that big round door. I call it the hobbit room – it's wicked!"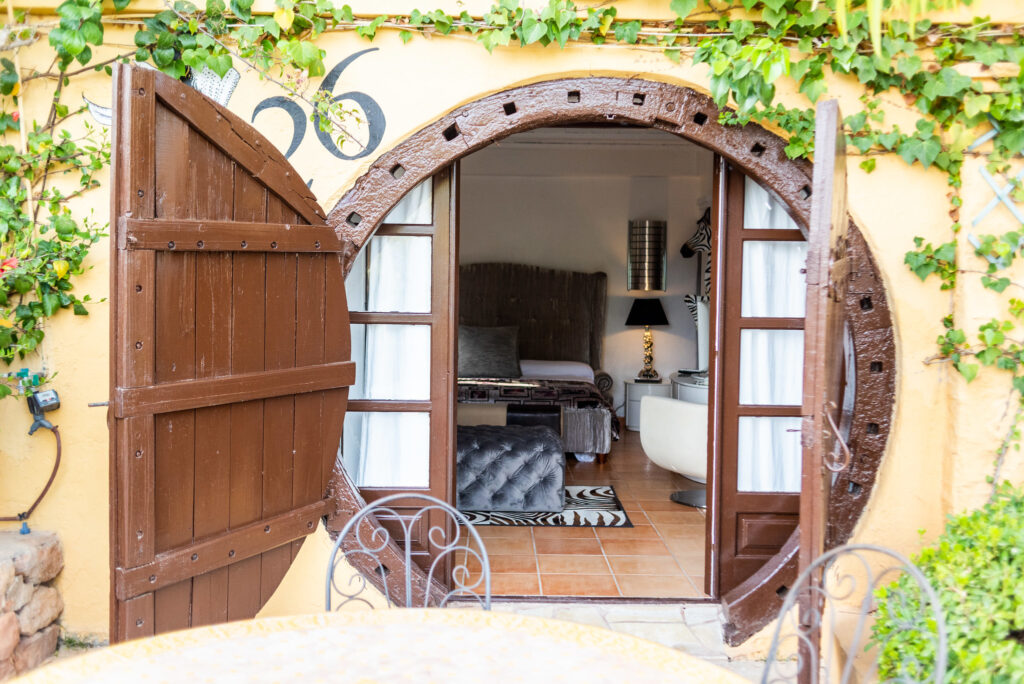 If you've listened to episode one of the new Pikes Podcast, you'll know already that Arthur has, err, endeared himself to our head chef Lee Milne, by sneakily requesting egg and chips, which he says is the best thing 'not' on the menu. It's always on a hangover he finds himself craving English comfort food, so the hint of nostalgia on the Room 39 menu fits the bill. "The food in Ibiza is unbelievable," he says. "But sometimes you're like ohhhh just give me the stuff I know!" By night, Arthur says he can't go past this year's new octopus starter. "It really tastes of the sea," he says. "The burger's always a lifesaver too. And the corned beef! It's so good – that was my packed lunch as a kid, Bully beef sandwiches with Branston pickle, you can't beat it. Lee's stuff is incredible, he's a genius."
While our cocktail bartenders have been bringing next level mixology to Pikes this year, Arthur admits his gift of the gab means their concoctions are often wasted on him. "I leave them too long and they melt when I'm talking and messing about," he says. Instead, he prefers a good old-fashioned beer ("Though it still usually goes flat and I have to get another one.") or another off-menu request, the elderflower-based white wine spritz Hugo. After midnight, in Freddies, Arthur says his drinks tends to disappear quite quickly – not because he's drinking them, but rather, his mates all reach in behind the booth to help themselves to his rider. "There's this huge bucket with beer, vodka, gin and mixers," he explains. "I'm busy DJing, concentrating, playing to the crowd and then I turn around to get a drink and they've all been nicked!"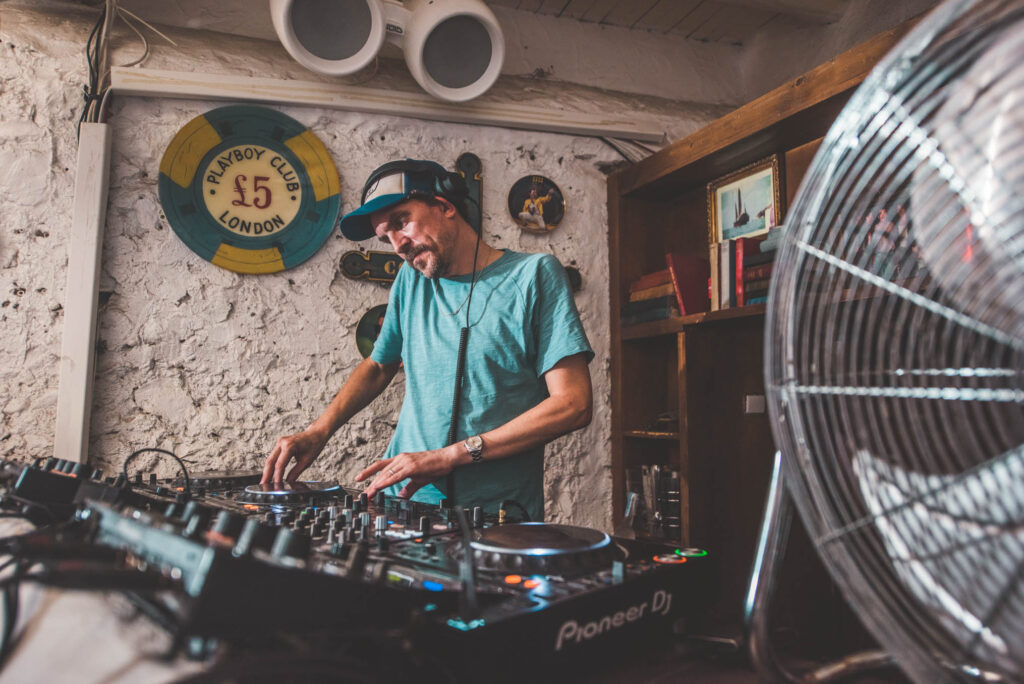 Freddies of course, is where Artwork really rules the roost at Pikes. "It's just good fun really," he says when asked to describe Art's House. "Hopefully it's good music and just nice people. There's a sign on the door that says 'NO C*NTS' and that's about right. You'd struggle to find someone who's an arsehole in there. There's no age group – there are people who are 25 and people who are 65. You could turn up on your own, everyone quickly gets into the same vibe and you can talk to anyone." He compares partying in Freddies to a party at a good friend's house, where all their friends are just great people. "It doesn't have to be really, really busy to have a good time," he says. "You can have 300 people in there are you've got a great fucking party. It never gets too rammed. You can get on the dance floor, you can get a drink, you can walk around – the outside space is just as important."
One of the lovely things about Arthur is that he's very humbly aware that as a DJ, he plays one part of a puzzle that makes up the entire Pikes experience – he doesn't see himself as the star of the show. "It's the people, the atmosphere, and the DJ plays a part in that, as long as the music is making people dance – it's not a superclub with the DJ behind walls of security. You're one of the people. We're all the people." Speaking of people, he says over the years at Pikes, he sees many of the same faces, returning again and again, but he also loves watching the sheer joy when someone new stumbles across Freddies for the first time. "You can see them be like, 'What the fuck is this?' It's madness, you get in a bathtub filled with balls, Sunny's singing and telling people off at the same time, there's someone playing a piano and people singing along, it's complete mayhem."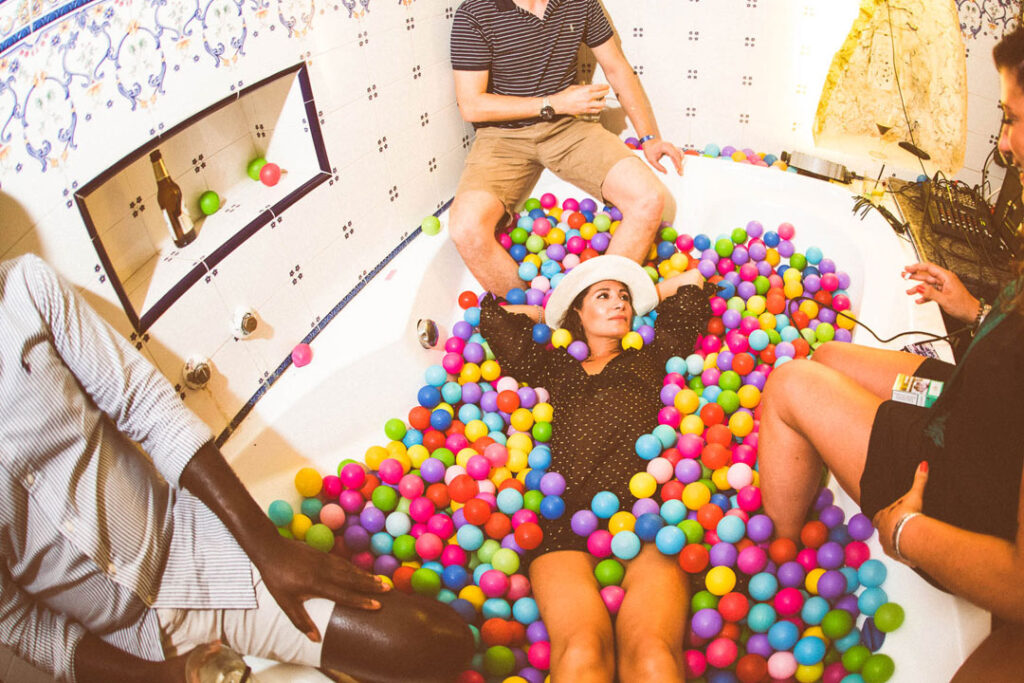 After six years, he says his favourite element of his night remains the moment Ruby Murry starts to belt out Nessun Dorma before he plays. "She's just brilliant. We've never ever changed the song – you could hear her sing it a thousand times because her voice is just totally and utterly captivating. The power, the conviction, she's a proper fucking opera singer. People's faces are astonished – it's such a surreal moment." Arthur also makes a point of getting the first people who arrive involved in the party. "The first five or ten people who come into the room are the most important," he says. "I'll turn the music down and have a chat, ask if there's anything they want to hear, get them a drink – if they're buzzing and having a good time, then it spreads to the next ten who come in. It's so important to start the party correctly and play music that makes people dance. It doesn't matter what it is, whether it's a pop record, a rock record, an acid house record or a disco record – if you can make everyone dance, well, you've done your job."
When it comes to dancing, Arthur is no stranger to the Pikes dancefloor and you'll find him front and centre every Monday night dancing to Harvey. "After I play on Saturdays, and it's been busy and everyone had a great time, I think I really smashed it… then I come back on Mondays and think, what the fuck am I doing? I'm going to chuck all my records in the sea – Harvey is just the don." The two share a bromance that was born in Pikes, although Arthur's first memory of meeting Harvey harks back over 25 years. "I did a party above a pub in Croydon," he recalls. "We got Harvey to come and play and there were only about 30 of us. He still played all night long as if there were 1000 people in the room. He doesn't fucking remember it though!"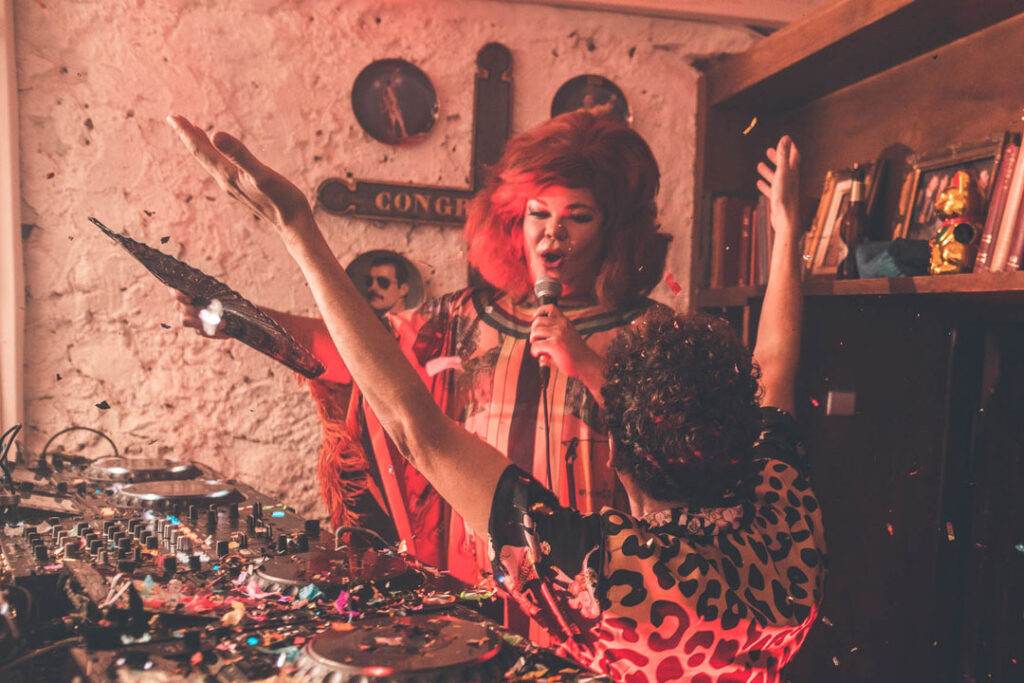 On his Pikes family tree, Arthur says Harvey would be the very naughty uncle who always leads you astray, while creative director Dawn Hindle is the naughty auntie. "Sunny's your naughty little brother who is completely off the rails," he continues. "Then Mika is the dad, holding it all together. He's just un-phasable when you need a grown-up around." The world's smallest drag queen, BayBJane, has also worked her way into Arthur's heart. "She is my favourite work of art on the planet," he says. "Everything she does, every outfit she wears, she's the funniest, liveliest character. I've never seen mischief like it!" In the great cast of Pikes characters however, all roads lead back to Tony. "I think he just wanted to create a place where people could just keep having a good time forever. A place where the party was never going to end," says Arthur.
"I love the fact that Freddie Mercury said 'Never rent that room out again, that's mine, just keep taking money out of my bank account'," he continues. "He'd have parties that would go on for days and days. And now that room is THE party room. There might have been some dips in the road but now, at this point, the party they started all those years ago is still going on. It restores your faith in music and parties, to know there's a place on the planet that is ALWAYS going (well, not always, not in winter), where you can just have a lovely time, with great people. It's a completely unique place in the world."