When checking into a hotel, it's fair to say most people don't want to be given the smallest room in the venue; similarly, they'd prefer not to stay in the room with designated disabled access – unless that access is required of course. But even then, many rooms that have been equipped with wheelchair rails and ramps seem to have been done so as an afterthought – we wouldn't be surprised if the people who need them most also feel disappointed when they check in for a holiday. Here at Pikes, our smallest suite also happens to be the space that has been adapted for wheelchair access – and yet, it just so happens to be one of our most highly sought-after dwellings.
The door to Room 4 is located just around the corner and up the garden path from the car park-facing Room 3, and just before the outdoor terrace space of Room 5 (we are numerically accurate in this part of the hotel, if not everywhere else). There are no stairs or tricky corners to navigate like some of our other spaces, and it's an unassuming entrance – widened to accommodate any guests who need to wheel into it – painted simply with the illustrated numeral 4 by artist Rory Dobner. What it does have in common with most of our rooms however, is that its rustic door gives very little clue as to what's inside.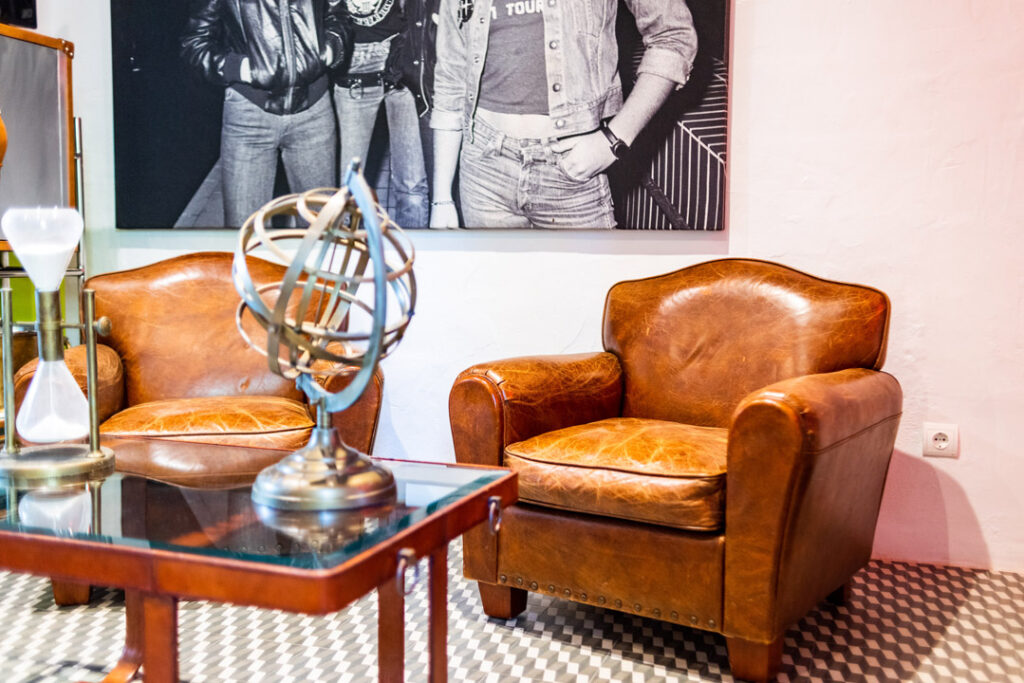 As you step, or roll, inside, it's not unlike going down a rabbit hole – safety first, of course. Gone is every last touch of rusticity about the bedroom, aside from the original Sabina beam ceilings that have been repainted a lovely chalky white to make the small space feel brighter and lighter. We love those traditional Ibicenco ceilings, but in a small space like this one, the darkness and heaviness of the wood can sometimes make you feel a little hemmed in, hence the repainting. The floor is completely flat – a much-needed improvement on impracticality of the rickety old terracotta tiles of Tony's days – and laid with new green and white tiles that create the impression of an optical illusion that's one-part Emerald City and another part psychedelic trip.
To your right, against the wall is a plush vintage leather sofa beneath a huge photo of The Runaways by legendary rock and roll photographer Steve Emberton – whose work you'll find displayed throughout all of our rooms and suites. On the table is a huge hourglass, alongside a steampunk-esque globe sculpture, both again conjuring up images from The Wizard Of Oz, though this time in the Wicked Witch of the West's lair rather than the shiny happy Emerald City. The Oz analogies sum up the dichotomy of this room perfectly – it's equally as good (as in functional) as it is wicked (and here we mean naughty!).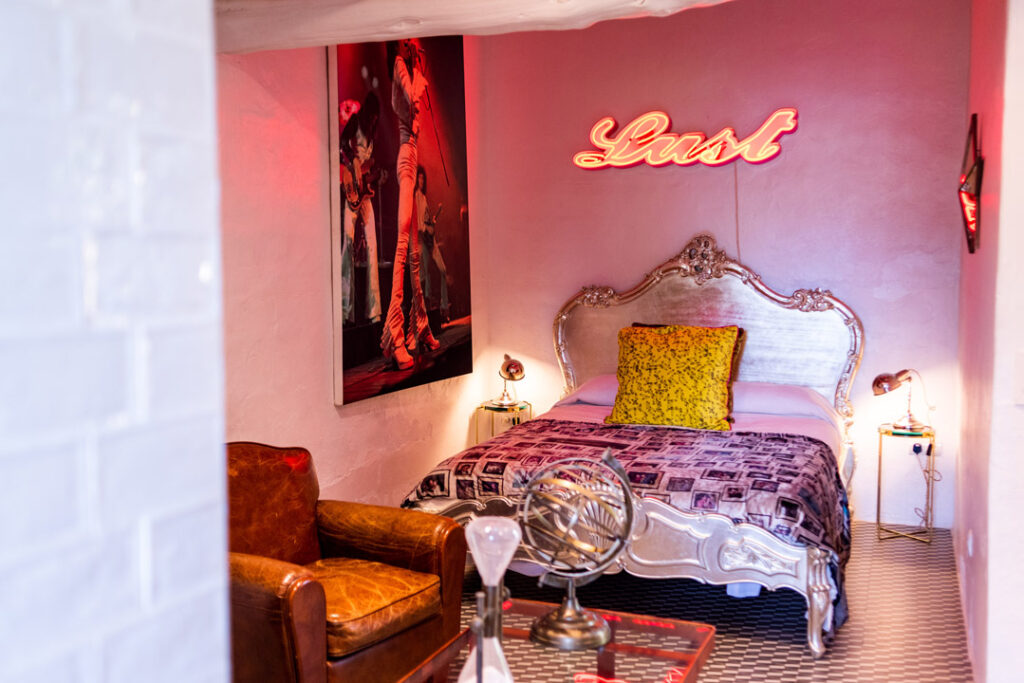 Creative director Dawn Hindle's idea for this room had always been to create an escape within the hotel. A place to run away to and have adventures; be they of the torrid, lusty affair kind or of the kind where you stay awake for days on end and have no idea what's happening outside your room. You know, the kind when you don't care what's happening anywhere else because you're having such a good time in the moment. "When we needed to make a disabled room, Room 4 was the easiest one to access so it made sense," she explains. "Before the renovation it was also one of the naughtiest rooms in the hotel, even though it was the smallest, so I decided to turn it into the sexiest disabled room ever – one that you didn't even realise was equipped for wheelchair access, because that's how I think they all should all be anyway!"
Back in Tony's day, Room 4 was indeed equipped for some risqué behaviour – the bed had tell-tale glass counters all the way around it. "It was the best porno bed in the hotel!" laughs Dawn. You can only imagine what our former guests got up to back then! Obviously we needed to remove the old bed in order to provide easy access for slipping between the sheets, so Dawn decided to install a huge mirror on the roof (as large as the bed itself) in homage to the room's former glassy décor. In keeping with the mirror theme, the vintage coffee table is also glass topped (some things never change), and reflective metallic cabinets sit beneath the television. A glass-fronted chest of drawers sits opposite the sofa, and a big mirrored star adorns the wall beside the bed. And then, there's the enormous sliding bathroom door – a replica of the ceiling mirror – which means you can pretty much see yourself from all angles.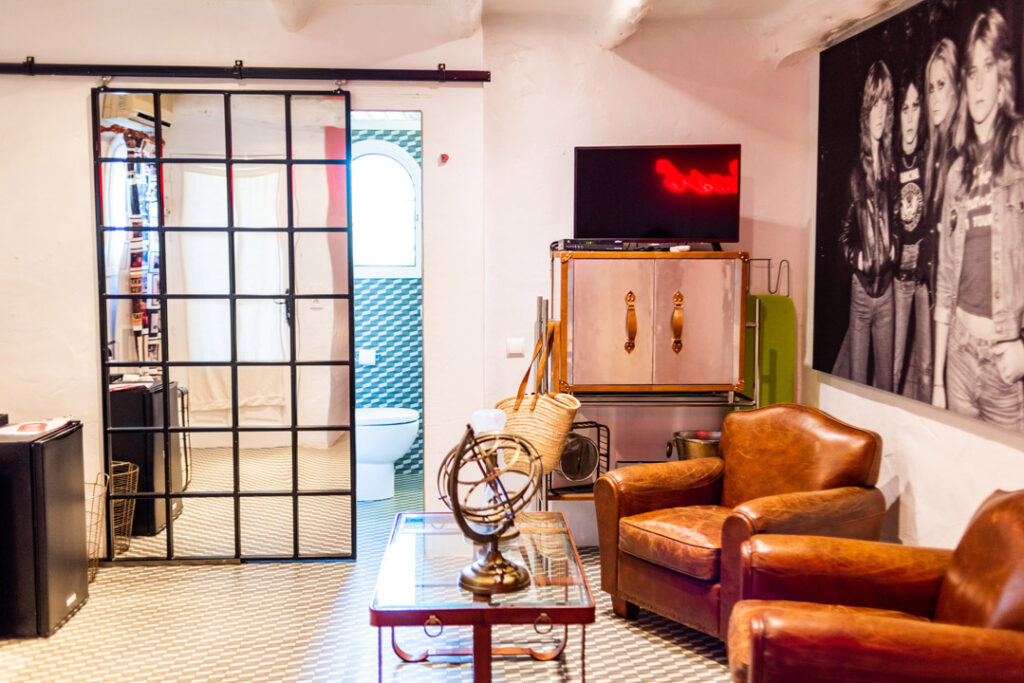 The bed itself is perhaps the pièce de résistance of the room, an ornate, vintage inspired boudoir style silver structure, with our famous (on Instagram) neon 'Lust' sign, created by the late, great artist Christ Bracey, emblazoned above it. Of course, you can switch it off when you want a little shut eye or an afternoon siesta, but when you're in the thick of an after party or in the heat of the moment with your lover, there's nothing better than catching its blazing reflection (along with your own) every which way you look. To the left of the bed, another large Steve Emberton photograph – Freddie Mercury performing live, at his most glam, in 1975 – dominates the wall space. This room is pure OTT glam, and once you've checked in, well, we don't need to say the rest – you know what it says on the wall outside!
One of our reception team's favourite things about checking people into Room 4 is watching our guests' jaws drop the moment they discover the bathroom – and that's after they're done ooh-ing and ahh-ing about the interior. The huge mirrored door slides open easily to reveal a huge shower room within, fitted from top to bottom with those same green kaleidoscopic tiles – if this isn't the trippiest bathroom you've ever seen in all of Ibiza, we'd like to know what drugs you were consuming in the others! A huge overhead rainshower makes it easy to bring yourself back to life after a few too many nights in Freddies (or locked in the room), and thankfully the loo and the sink are still white so you know where to aim. It's yet another popular Insta-backdrop… and we're sure it's inspired plenty of R-Rated outtakes that didn't make it past the Insta-nipple rule.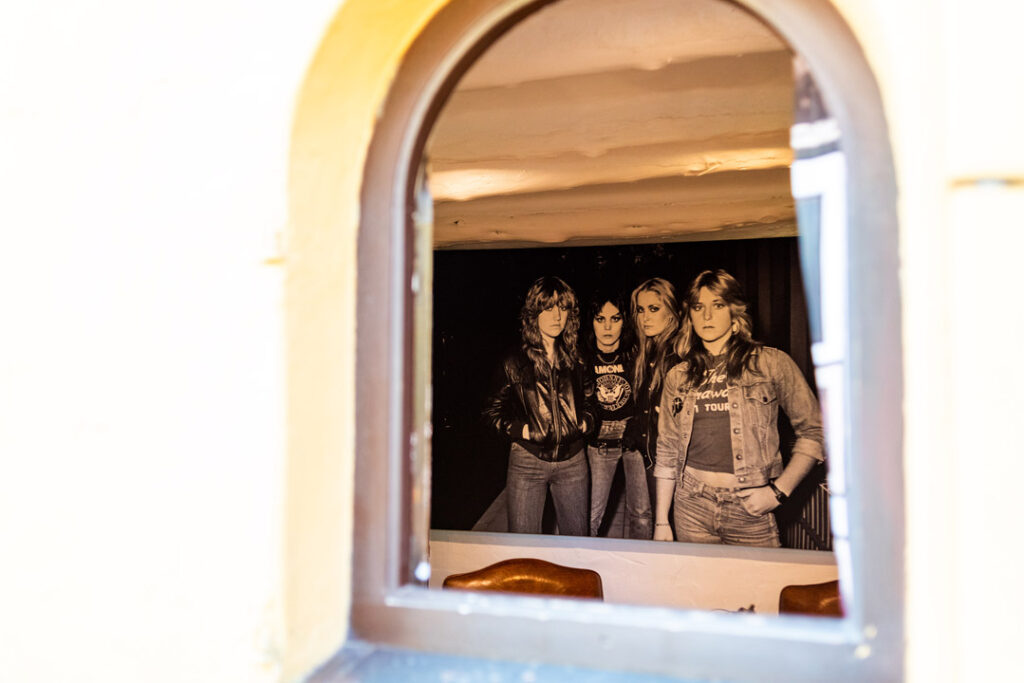 Due to the design of the space, there's not a lot of natural light that comes streaming in, but if we're honest, we've never had a single complaint about this since our guests are notoriously night owls anyway. There are two arched windows you can open in Room 4 to let some air and light in – one peeps straight in on The Runaways and the other peeks directly into the bathroom. But whether you prefer it blacked out, fully lit, or with natural light streaming through the voyeuristic windows, we're certain you won't be disappointed with being told you've scored the small disabled room when you check into Room 4.