In the ever-changing environment that is Ibiza, it's reassuring to know there will always be some constants. The latest and hottest parties, DJs and artists may come and go with the seasons and trends, but in the background, quietly plugging (or plucking, as the case may) away, there is an enduring local scene that simply refuses to be affected by fluctuating fashions. In the true spirit of the island, this fearless collection of Ibiza characters march to the beat of their own drums, creating unique soundtracks to inspire the rest of us. One such island stalwart is Paco Fernandez – but in his case, it's the strings of a guitar that have seen him strum his way into the hearts of those who have encountered him – who has, incredibly, been performing at Pikes on and off for the last 35 years.
A weekly residency back in 1980-something led to a long friendship with our beloved Tony Pike, in addition to a deep love of the hotel's 'live and let live' philosophy. Creating his own particular style of Flamenco chill-out, Paco's long and varied career has taken in world tours, Grammy nominations, and a multitude of albums and concerts. Still, each and every Saturday he returns to Plaza Mayor at Pikes for an intimate weekly concert beneath the stars, where he feels free and liberated to do what he does best, playing and producing live Flamenco and fusion with his band and electronic accompaniment – or, as Paco describes it: "Throwing ourselves out of the plane without parachutes."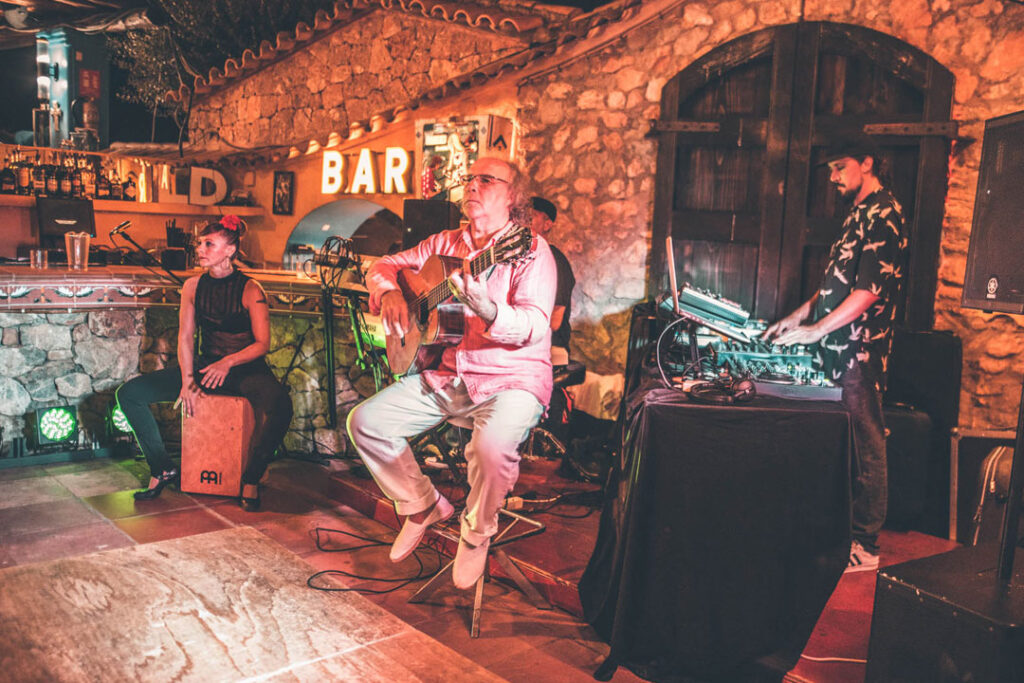 Originally hailing from Granada, the Fernandez family, with six children in tow, left the desolate agricultural land of Andalusia in the early 1960s, along with many others seeking work in Ibiza. In the Balearics, they were safe from the persecution of Franco, and as tourism was beginning to blossom in Ibiza, the building boom was ripe for labourers. A seven-year-old Paco was quickly set to work playing his guitar and singing Flamenco in the bars around the island with his father, where the cute kid earned more in tourist tips than most of the adults in the family put together.
"The Flamenco in Andalusia, like the gitano, is deep. It's like when we talk about blues…. basically the roots of blues, and Flamenco, are exactly how they had to be," Paco explains sincerely. "It's a music that comes from hardship. Emotionally, you can imagine blues coming from slavery, from Africa, and Flamenco too, in a way, is always talking about the miners and the persecuted – the gypsies were persecuted by the white Spanish. I come from Flamenco, and to a European, yes, my music is Flamenco, but actually my musical 'fan' as it were, is very wide open." Paco's first album, Vivir en el Mediterráneo was released in 1986, and is a testament to that fluidity. Playing his own material all over the island at places like the iconic Hacienda Na Xamena and here at Pikes allowed him to develop a previously unheard genre that ultimately became known as Flamenco chill.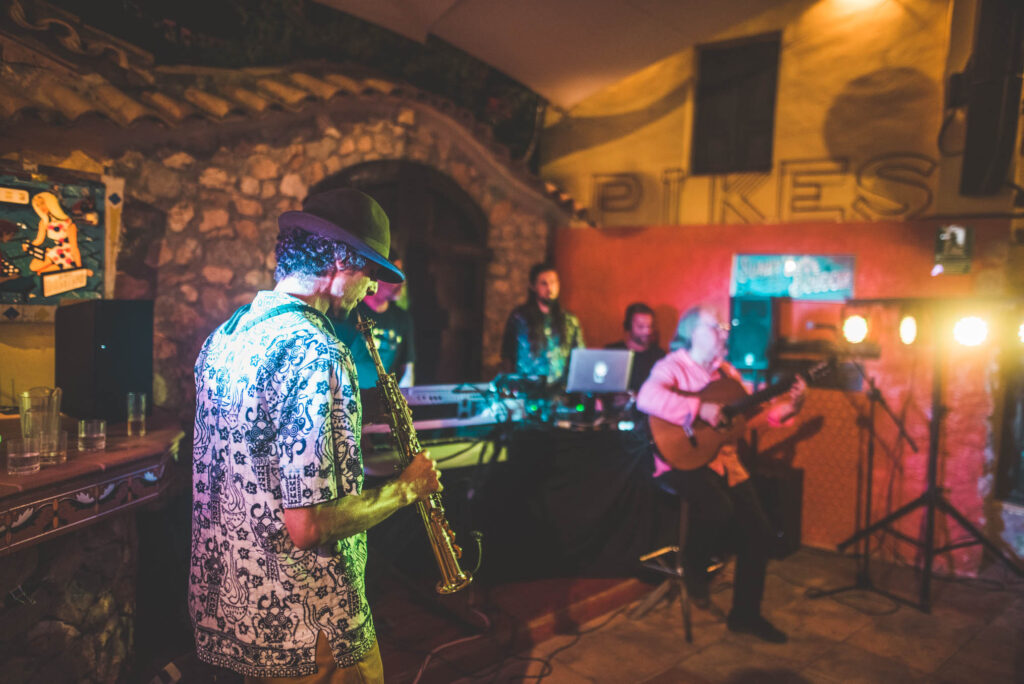 Not long after that time, a fledgling Café Del Mar was becoming known for sunsets and a young Jose Padilla was beginning to make his mark on the chill-out scene. "Jose was the DJ at Café Del Mar," recalls Paco. "He knew me from my solo album and he needed songs for his compilations. He chased me for years ('Paco, I need your tracks for my album') but I just wasn't ready to give one of my album tracks to Café Del Mar. He persisted and persisted and so eventually I went into my studio. I hadn't really listened to what type of music Café Del Mar was presenting at that stage either, but I came up with the track Grillos that was published on Café del Mar Volume 4." Thus began a long and fruitful partnership with Padilla, resulting in various music projects including film soundtracks and a Grammy nominated album.
Paco's second solo album, Sol y Sal, took him touring all over the world with his newly formed band, featuring his Flamenco dancing niece and his nephew on keyboard alongside his electronic and hip-hop producing son. Once the band returned to Ibiza, they set up on Friday nights in Las Dalias for a weekly fusion night, blending jazz, Caribbean and a little Santana flavours – they built up a unique scene right there. It was there that the promoters behind Ibiza's biggest party, Manumission – including Pikes owners Andy McKay and Dawn Hindle – came to see the show. "After the concert, they called us and said: 'Listen we have this idea,'" remembers Paco. "At that time, I didn't know what Manumission was. I had heard things of course, that it was quite radical in many ways and that it was very extravagant, so it was with a lot of doubts that I came into that project." Trusting his instinct would end up creating a lifelong collaboration that continues to this day.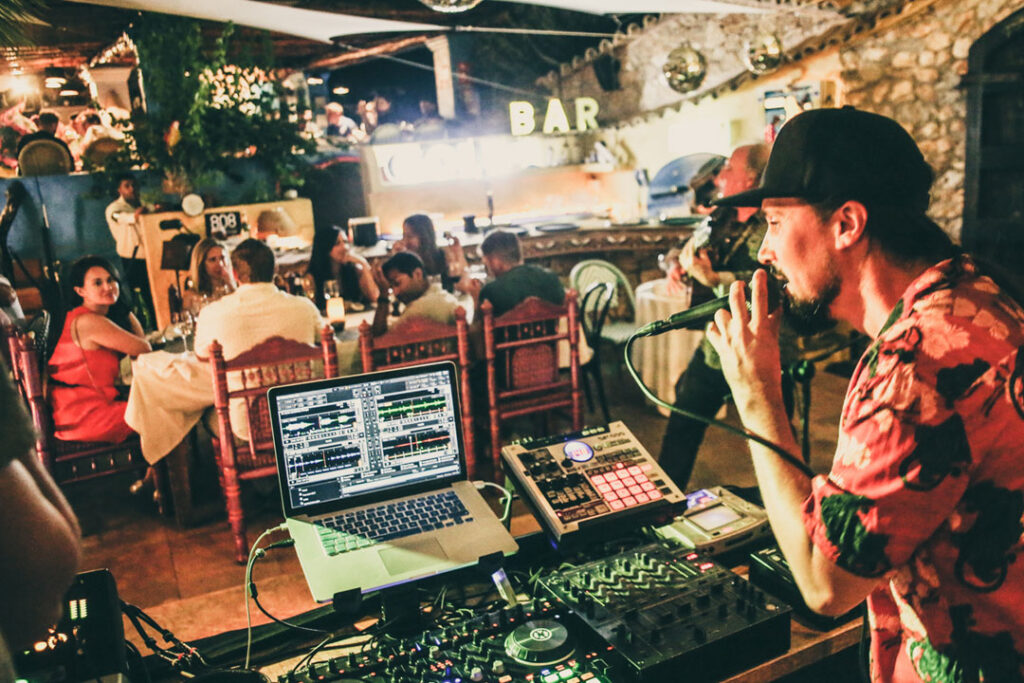 "What I found was that Manumission was actually not all that radical," Paco continues. "It was a family – one big family." Any doubts he'd had about the collaboration were dispersed from the moment he and his band stepped into a blinding spotlight on a stage in the centre of the enormous, cavernous nightclub that was Privilege. As the thumping bass lines emanating from the DJ booth came to a sudden halt, the eyes of 10,000 over-enthusiastic clubbers were drawn to the stage. Who was this man with a guitar and what's happened to the house music they'd been promised? For 15 minutes, Paco would rise to the challenge with his energetic Balearic Flamenco, his son would MC and bring in hip-hop beats, his niece would dance traditional, dramatic Flamenco and break-dancers would surround them on stage. The unexpected shift in energy in the superclub was palpable, turning into true euphoria at the moment the DJ was finally allowed to drop the next beat in.
It was also a moment in time when cameras were banned in Ibiza clubs; at that time, camera phones did not yet exist and thus, there's very little evidence on film of the dramatic performances. Clubbers were completely immersed in the experience, rather than trying to capture the moment on camera (ah, the good old days) and for many those memories were unforgettable. When Dawn and Andy tool the reins of Pikes in 2011, they recalled those memories and felt it was only natural to invite Paco to join the family once again. For Paco, it was like a double homecoming, given his long-standing relationship with Tony and the hotel.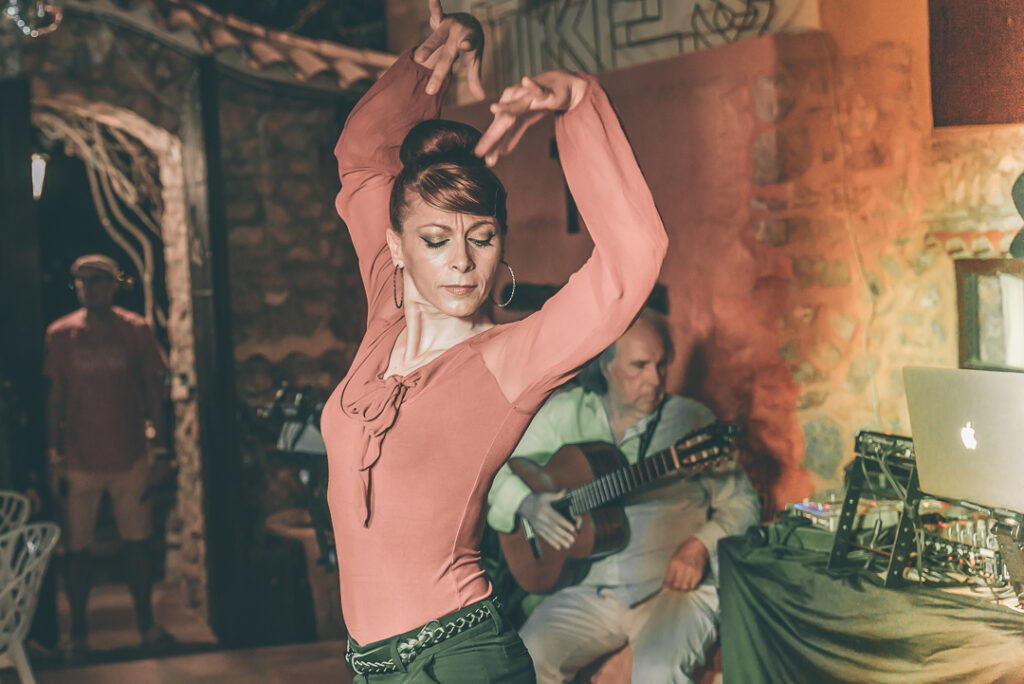 "The story of Pikes is ingrained in the walls," he says. "Along with the personalities of Freddie, Tony and Julio Iglesias; the history and the extravagance. Now in this new era of Andy and Dawn, there is a whole new story being written. Live and let live has been the philosophy of Ibiza since the 60s and it's definitely the story of Pikes now." Paco too, has become an integral part of our ever-evolving story – he and his band provide the sound-track and show to our Saturday night dinner guests every week in Plaza Mayor. The show remains surprising – first timers are known to watch with their jaws agape; millennials are, of course, capturing it all on camera for Instagram and these days, that's OK. It's Flamenco, but not as you know it – each set is different, produced live, with filters and effects added courtesy of Paco's son, always following each musician's lead as the band create new musical compositions every time. A song you hear one week might last four minutes, but the next week the same song could last for more than 10 minutes. There's a freedom in the rhythms and styles that they play with that's reminiscent of jazz, but with the unmistakable sounds of Flamenco at its heart.
From playing to Tony Curtis at Pikes in the 80s and producing live concerts at Café Del Mar in the late 90s, to performing to 10,000 people on the main stage of Manumission in 2006 and now hosting intimate dinner shows on our signature party night, Paco's connection to Ibiza spans so many iconic eras it's almost dizzying. "I don't feel the need to belong to any scene," he says with a distinct sense of self. "Flamenco can be very orthodox, but I don't care. I'm 62 years old and I am free. I'm very happy. Composing music for me is abiding – I wake up every day and it's like yoga for me. I pick up the guitar and I'm looking for a tune. Passion can be frustrating when things don't go well, but my personal attitude is to always be in love. It doesn't matter if it's with music, or if it's with life, or a colour – it's an attitude that is bigger than me. My love is music and I make music. Nothing else matters."