Although her wildly successful career as a session stylist means she can only visit us a few times each year, there's no doubt Lyndell Mansfield is an integral part of the Pikes family. The fuchsia-haired creative genius behind our pop-up Hairdresser on Tour concept first discovered Ibiza on a photoshoot in the winter in the early 2000s, but it wasn't until she was introduced to Pikes by a friend who had permanently relocated to the island in 2014 that she felt she'd found her home away from home. "To suddenly come somewhere where everyone was open, friendly and welcoming was amazing," Lyndell recalls. "The flora and fauna felt like Australia, the energy and optimism of all the people here was very much like Australians – all of a sudden, I just felt like I'd come home."
As luck – for all the women who worked at Pikes at the time – would have it, Lyndell was travelling with her scissors, and she began snipping and styling the locks of anyone she'd come into contact with at the hotel. Now – let's backtrack a little, so you can grasp the enormity of that situation. Here was one of the most well-known and respected hairstylists on the planet – we're talking every glossy magazine known to womankind, celebrities like Beth Ditto, Jess Glynne, Paloma Faith, Florence Welch, Kate Moss, oh, all the supers; advertising campaigns for Vivienne Westwood, Roland Mouret, Armani and Erdem; not to mention videos for Dame Viv again, Dyson, Schwarzkopf, Baz Luhrmann, and runway work for Anya Hindmarch, Zandra Rhodes and Mulberry among others – and here she was, happily, spontaneously chopping our hair in the blazing heat in the Love Shack. The acronym for Hairdresser on Tour had never been more appropriate.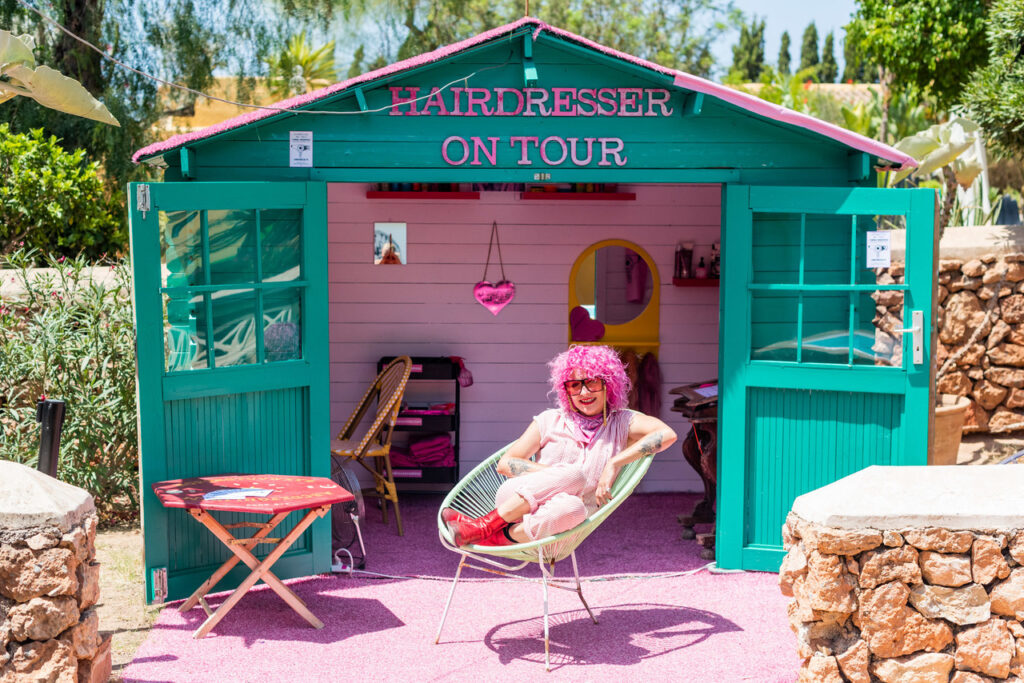 Lyndell laughs – that signature girly cackle that lights up a room – at the memory of telling a colleague in London about the pop-up in its early days. "My make-up artist friend, who is a real fashion person, said to me: 'I'm sorry, can you explain – you go to Ibiza and you cut the general public's hair?' I just love it – it's really fun and I meet such amazing people." She continues to explain that it doesn't matter who is in her chair – it could be a celebrity, a model, royalty or even our lovely housekeepers – it's the buzz of making people feel good that motivates her. "For me, watching someone get elevated in the chair is so powerful – after you've done their hair, you've shared that conversation and energy, they sit up an inch higher than when they came in. They've entrusted me to do that and I take that responsibility very intensely. If I stopped doing that, I may as well stop being who I am. I would never stop cutting people's hair."
There's a natural warmth and a childlike, positive energy that emanates from Lyndell – being in her presence is like an instant confidence boost. She attributes her ability to put people at ease, and indeed her confidence, to her nomadic childhood in Australia. "I was a child of four marriages," she explains. "We spent our life travelling around and I was always at different schools. I had to learn to be adaptable. I was a little weirdo, so I had to make myself likeable enough without being the popular girl." Describing herself as both the ringleader who would ensure everyone was having a good time, and a cheerleader who would boost other kids' confidence if they were being teased, her attitude ("I was quite bossy!") and natural aptitude for creativity meant she was always putting on shows, building shops, making costumes and throwing parties for friends and family.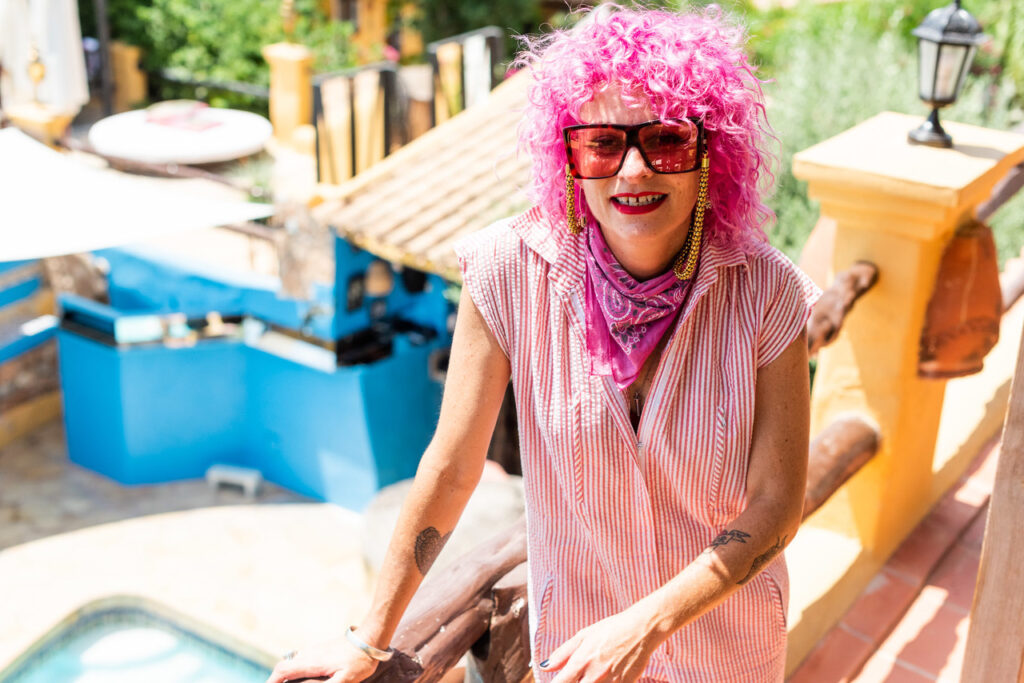 Her family were the first to be on the receiving end of Lyndell's styling skills. "Apparently I always had a brush in my hand," she says. "I was always performing, or I'd offer head massages to everyone at barbecues for 20 cents – I'd call them 'headjobs', which really wasn't the best thing to do!" She believes that the path to becoming a hairdresser was bestowed upon her by her mother during pregnancy – at the time, her mum had been doing an apprenticeship. "They say what you do when you're pregnant can affect your kids," she says. "Maybe it was all the lacquer from the bottles she'd wash out, it got into my system!" At the tender age of just 12 years old, she lied her way into a summer job as the 'tea and tidy' girl at a little salon, where she recalls "drowning old ladies and sweeping the floors", in addition to working in the rollerskating rink after school.
The minute Lyndell hit the legal age to apply for an apprenticeship (14 and nine months), she started to lose interest in school and was focused on one thing: a career in hair styling. Always one to shoot for the stars, she applied for a hotly contested position and beat over 1000 applicants to the role; within three months Lyndell was already entering competitions and passionately training, studying and working her way up through the ranks. This was the 90s, and at the same time she was assisting friends on music videos and with fashion shows ("I did the make-up, the hair, the styling and I was in them – it's just what you did."), but from her creative bubble in Australia, it never occurred to Lyndell that there was a whole wide world out there to explore.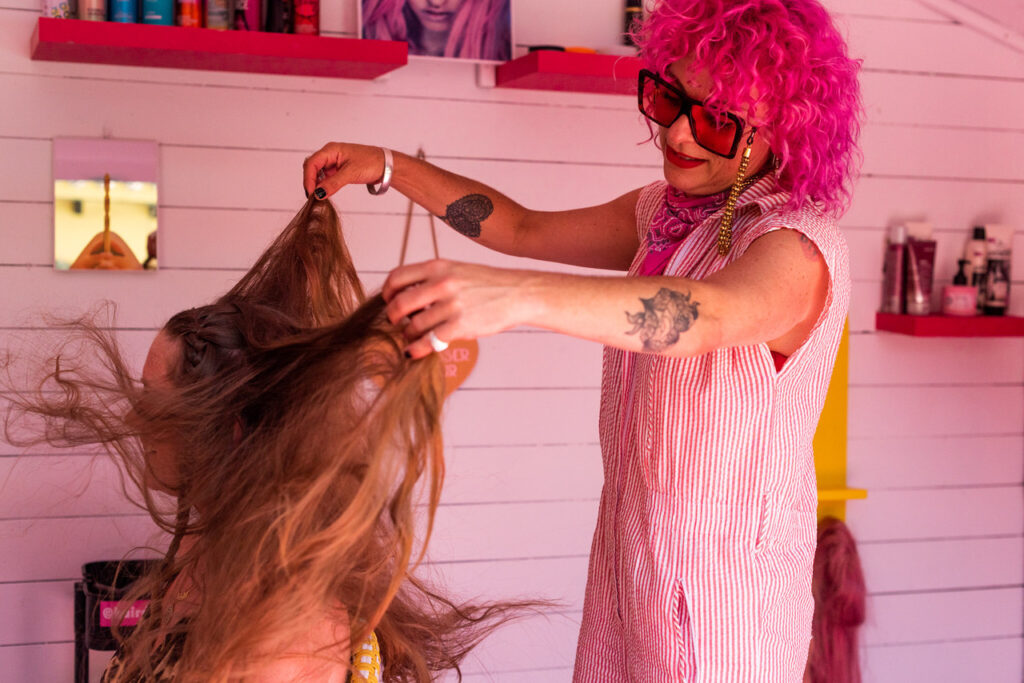 Obsessed with imagery, she'd cover her walls in decoupage with images from the inspirational magazines of the time: The Face, Interview, Details, French Glamour. "I thought I could create that world in the place I was living," she says. "I never had that feeling that I had to get out of Australia." After 10 years of working in salons and participating in competitions, Lyndell had a chance encounter with a stranger in a crystal shop in an arcade – someone who randomly approached her to offer a reading, and told her that although she wasn't someone with itchy feet, her work was going to take her away. Sure enough, when Lyndell was selected as one of only ten competitors in the Australian Hairdresser of the Year Awards, her life would change. She won the award and was given two tickets to London.
All of a sudden, Lyndell was immersed in the glamorous world she'd been admiring from a far. Assisting the world's greatest hair stylists, working on fashion shows in London, Paris and New York, becoming the personal hair stylist to all the big models of the naughties, like Jacquetta Wheeler and Liberty Ross – things had fallen into place and she's never looked back. "I've spent 21 years away from home in total," she reflects. "Now I've got this hybrid accent!" You can take the girl out of Australia however, but you can't take Australia out of the girl – when she met Tony Pike, Lyndell loved to swap stories and like a true Aussie, she still says 'Straya' when talking about her homeland.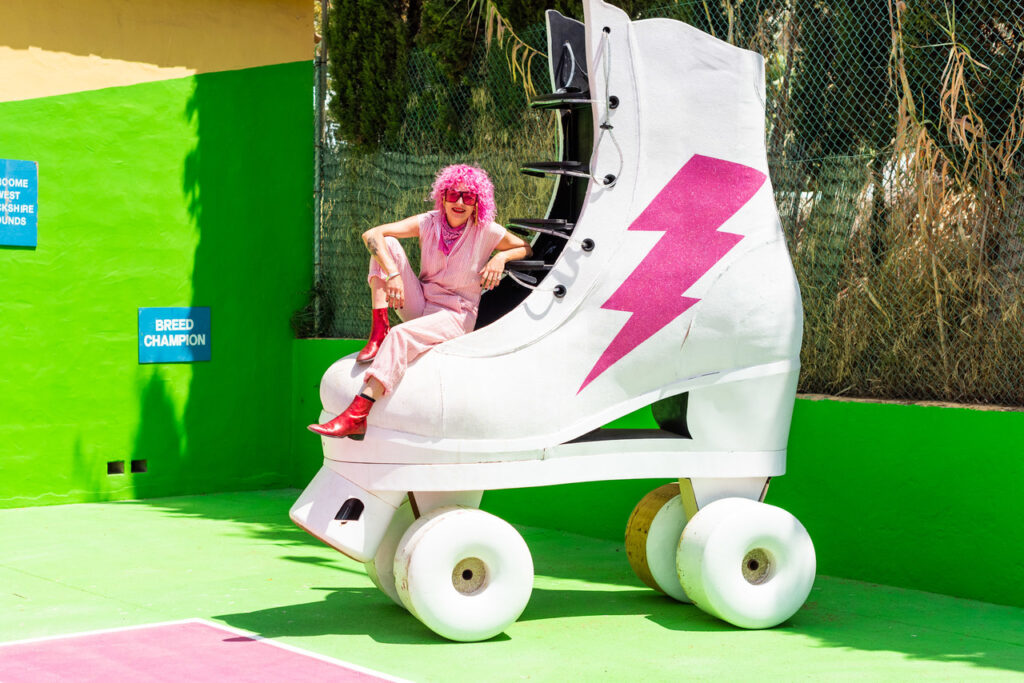 These days, Lyndell's work life is intense, and she thrives off the collaborations with artists, musicians, filmmakers, art directors, lighting directors, stylists. "Everything about it still excites me," she says. "When I step back and look at a picture, or a moving image, I never just look at the hair. That's just one small piece of the vision." Her naturally intuitive manner, combined with her artistry, is what helps her make her famous clientele so comfortable when with her. "You have to know when they're feeling good and when they're not; you have to know when to keep it down or be their cheerleader; you're helping these girls put on their work masks – it's a process, and I love that process."
Not one to follow trends per se, inspiration for Lyndell comes from the individuality of other people. "Music does that for me mostly," she explains. In addition to her work as a stylist, Lyndell also puts on a monthly club night in London called DIY Thursdays, which she sees as connecting her to the youth culture, and the many scenes within it, of today. "I grew up in a time there were so many scenes and I've been in every single one of them. I've done the goth, the punk, the rock and roll, I love it all. I love to delve into all these scenes and really feel them for myself – then, when I look at a dress or a person, it triggers something within me and the references pop out, from all the different girls I am inside." This summer, Lyndell is also bringing DIY Thursdays to Pikes on Sundays (on Sunday August 18, 2019) and planning to inject some of that original rock and roll energy back into Pikes.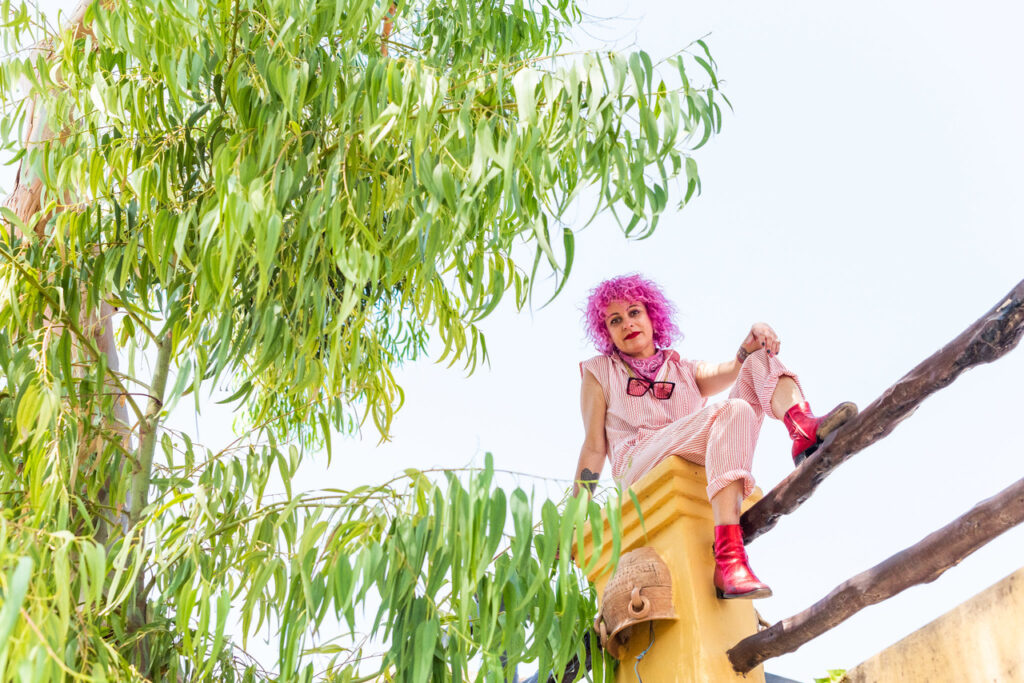 Lyndell also takes inspiration from the empowered women in her life, who also understand the power of making someone feel good – citing her friendship with Pikes creative director Dawn Hindle as a "proper girl crush." She's obviously also the stylist responsible for Dawn's signature grey and black locks. "Dawn is amazing," she says. "She is so empowering and has an amazing way of having a sensuality as a woman, and being a badass at the same time." She could well be describing herself. A tiny powerhouse of wild pink hair ("I've had pink hair for so long it just feels like my natural aura."), huge oversized sunglasses, outlandish outfits and that gorgeous laugh, Lyndell thrives on making people feel good, and having a good time while she does it. At the same time, she's a consummate professional – always on time, warm and friendly, always maintaining the confidences of her clientele and incredibly good at her job.
"I used to get paranoid," she says of being a woman in a male dominated industry. "I know I'm a lot. I've got my look on, I've got pink hair – people would say: 'Oh you know Lyndell, she's crazy!' And I hate that. It's horrible because I'm actually very professional. I'd rather be looked at as eccentric – or wacky! The other day someone called me wacky and I loved it." Dig beneath the surface however and that little spunky girl from Australia is still there, still leading the pack and making sure those around her are being looked after, whether it's on a video shoot or at her bi-annual Hairdresser on Tour pop-up at Pikes so much. "Being at Pikes is like a holiday to me," Lyndell concludes. "Doing people's hair is a bonus! I meet all these lovely people here – some people have flown from Devon, Cornwall and London to have their haircut with me at Pikes; others have just stumbled in on a stag do! Quite often, we stay friends afterwards. It's like escapism from my other work, I use a different kind of energy for that. But when I walk around at Pikes, I just feel like I'm at home."